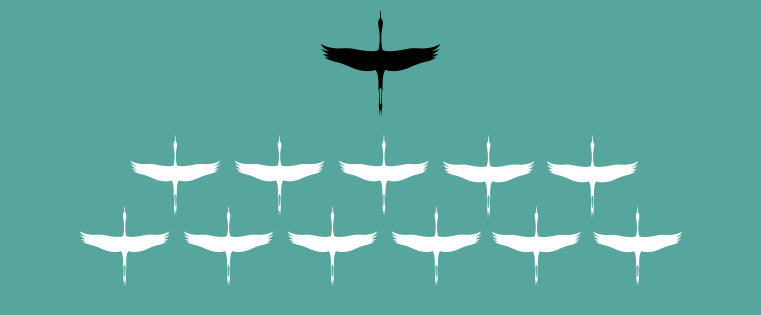 This post originally appeared on HubSpot's Agency blog. For more content like this, subscribe to Agency.
No man will make a great leader who wants to do it all himself, or get all the credit for doing it. 

– Andrew Carnegie 
As the leader, you're constantly facing challenges, the biggest of which is how to be a great leader, every day. Great leadership is the foundation of any organization, big or small, because without it, growth is impossible.
What Do You Stand For?
Leadership doesn't exist without followers. It's about enrolling people who believe in you and what you stand for. You need to know:
Where are you headed?
Why should people follow you (and not someone else)?
What's in it for them?
There are many schools of thought and philosophies about leadership. Amazon has more than 26,000 titles on leadership, and a Google search on "leadership" produces 152,000,000 results! World-renowned experts such as Dale Carnegie, Stephen Covey, Jim Collins, John Maxwell, Ken Blanchard, Marshall Goldsmith, John Kotter, and newcomers Sheryl Sandberg, Ed Catmull, Simon Sinek, and Tim Williams (among thousands of others) represent diverse points of view — all of which have validity.
But which one is best? Which one should you follow? Which one will benefit your company?
We don't have the answers. You do.
Only you will know which philosophy fits with your core values. What works for your colleague across town may not work for you. You're going to have to dig deep inside yourself, do some research, and practice until you get the right combination.
Think of it this way: when you're creating a plan for a client, you're constantly weighing which strategies and elements will yield the greatest return. It's different for each client, each organization, and each goal. You start out one way, but invariably you wind up making tweaks and changing variables on the fly.
Leadership is no different. As you become immersed in the topic, you'll see that there are different strategies, traits, and approaches that you'll combine in whatever unique way suits your strengths and your goals.
10 Attributes of Truly Great Leaders
Among all of the experts we noted above, there are 10 qualities we've discerned that they agree are essential qualities:
1) Communication
Great leaders are expert communicators. They spend most of their time listening. And when they speak, they're not just clear — they are sincere and consistent in what and how they communicate. (This trait, out of all of them, almost always is first on everyone's list — that's how important it is.)
2) Integrity
The greatest leaders in the world are impeccable with their word. Integrity is a conscious choice. Their actions match their words and are congruent with their values. This inspires confidence in their followers.
3) Values
The best leaders are mindful of their core values. They share them unabashedly and will do whatever it takes to hold true to them. Their values set the tone and provide behavioral guidelines for their followers.
4) Vision
Great leaders know where they're headed and why. They've always got one foot in the future and one in the present. They view their role as manifesting their vision of the future.
5) Passion
Passion fuels great leaders. It is a never-ending source of energy that separates the doers from the dreamers. It is what initially attracts followers and inspires them. 
6) Confidence
Confidence is necessary for staying the course when things get tough. Great leaders have an abundance of confidence. (This can quickly turn into arrogance without the next quality to temper it.)
7) Curiosity
Along with listening, great leaders ask lots of questions. Their curiosity is insatiable. They constantly learn and hone their own skills. They are open about what they don't know because their confidence lets them learn, absorb, and apply what they've learned. And they're equal opportunity learners — they're willing to learn from janitors to CEOs, from plumbers to musicians. They are ego-less when it comes to learning.
8) Positive Attitude
Great leaders might get "down," but this is not their typical outlook. They are eternal optimists and always see the future as a reality. They find a way to solve a problem or overcome a new challenge. Attitude is often a choice. Great leaders choose to exude the type of attitude that will influence their team in a positive way.
9) Competence
They are the best at what they do, always accomplishing more than expected. They accept what they're not good at and are so self-secure that they surround themselves with people whose strengths complement their own. As a result, they attract followers who are continually inspired.
10) Empowerment
They set their people up for success. They don't leave them to fend for themselves, nor do they throw them under a bus — for any reason.
Develop Your Leadership Skills
Getting to Know You
To become a great leader means taking stock of who you are — all your strengths and weaknesses. It means being brutally honest and humbly hearing how others view you. The most insightful information will come from other people because we rarely see ourselves as others do. 
There are lots of assessments you can take, and some will also include options for others to evaluate you. Whenever you have to actually use a skill or ability in an assessment, you may find that information more useful than just your own self-examination.
Here are some tried-and-true, as well as unique and innovative, assessments to take a look at:
Commit to Growth
After you've done some self-examination, and you've come to grips with what you've learned about you, it's time for a plan. But no plan is worth the paper (or pixels) it's written on without a commitment to see it through. As Yoda said, "Do or not do. There is no try."
Practice, Stand Accountable, Be Generous
You (and only you) are responsible for the results of your leadership. You don't get to blame others when you mess up. And you will — you're human. Honing skills and instilling new behaviors takes time, practice, and perseverance.
Whether you succeed or stumble, always be generous to those around you for their help and encouragement. I'm not saying toss out bonuses left and right. This is about generosity of spirit. If you give credit to others for your successes and shoulder the blame for your mistakes, you will find an endless supply of followers. 
When you're transparent about your intentions and sincere and honest in your actions and interactions, there's nothing to be embarrassed, defensive, or ashamed about. If anything, your vulnerability can set a powerful example for your followers.
Don't Go It Alone
The old saying "it's lonely at the top" is all too often true because we make it true. We may isolate ourselves thinking we can't trust others to tell us the truth or that we need to always be seen as strong, perfect, and in control at all times.
You can go that route if you wish. Or, you enroll people you trust in your journey. For example:
Hire an executive coach who provides an objective perspective and works with you to develop your abilities.
You and your leadership team (or other CEOs) could share your visions and plans with one another. Combine that with an executive coach to support all of you.
Solicit your followers' help in holding you accountable for when you deviate off course, violate other people's boundaries, or don't live up to your own standards.
Hire a leadership consulting firm such as the Center for Creative Leadership, Heidrick and Struggles, Navalent, or Franklin-Covey to work with you and your leadership team. 
Make the Choice
The first step to becoming an effective leader is to know yourself — all that is good and admirable and all the stuff that makes you cringe and want to hide under the bed. Because the good news is you can change and grow. It's a choice you make. The stronger your commitment and the more often and courageously you act in the face of discomfort, the greater a leader you will become.