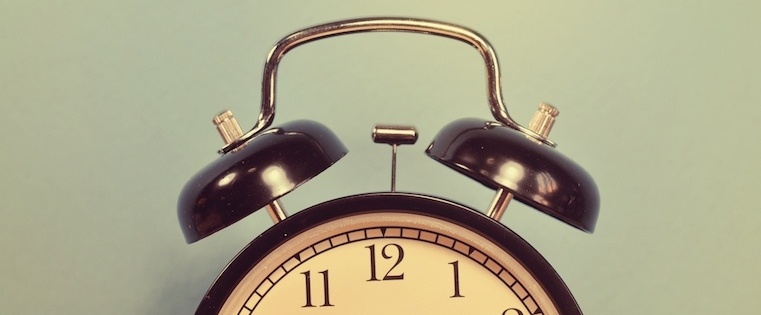 Doing a complete overhaul of your LinkedIn profile is a pretty monumental task. So even though you know it's in dire need of attention, you keep putting it off … and off … and off. Next thing you know, it's been four months and your LinkedIn still sucks.
You don't want to be the salesperson who loses prospects because you've got an ugly or incomplete profile. Enter these quick but impactful changes. They'll have your LinkedIn spruced up in a matter of minutes.
Before you dive in, remember to turn off your network notifications. This setting lets you edit your profile without blasting your entire network with updates. You can find the setting at the bottom of the right sidebar of your profile, and it looks like this:

Ready? Let's go.
12 Quick LinkedIn Tweaks to Make Right Now
1) Make Your Headline More Engaging
Nothing puts prospects and recruits to sleep faster than a boilerplate headline. If yours currently reads something like, "Account Executive at Bookly" or "Client Growth Specialist at Hoynes," it's high time for a change.
To make your headline more engaging, use this formula: Helping [your customers] do [your product's mission].
Want more in-depth guidelines? Check out our four secrets to writing a no-fail headline.
2) Update Your Current Position
Scroll down to your "Experiences" section. 
Do your description of your current role highlight the value you provide to your company or your clients? If your description is aimed at recruiters rather than prospects, you're making a major mistake. Buyers don't care that you squeezed the juice out of a dry territory — they want to know whether you can help with their goals.
Here's a good format to follow:
On average, my customers see:
Benefit #1
Benefit #2
Benefit #3
3) Ask for Recommendations
Imagine you were looking at two different items on Amazon: One with 12 reviews, and one with zero. Which one would you buy? Probably the first, since it has demonstrated value.
This phenomenon — known as "social proof" — occurs on social networks like LinkedIn too. With a few recommendations on your profile, prospects won't have to take your word that you're credible — they'll have the proof right in front of them.
Of course, not all recommendations are created equal. Choose five or six clients who know you well and will have positive things to say. Then, use this email template to ask them if they'd recommend you.
4) Add Relevant Marketing Material
If your company has produced any content (like PDFs, slideshares, videos, infographics, presentations, etc.), adding one to three pieces to your profile is a no-brainer. A page with a good balance of text and multimedia is far more interesting than one that's all text, so you'll automatically capture your prospects' and recruiters' attention. Plus, adding some content makes you look like a thought leader.
5) Publish a Post
By default, LinkedIn inserts your published posts right under your headshot and basic bio. That means prospects and recruiters scanning your profile will see your posts right away — and you'll score some instant credibility.
If you've written anything about your industry or product before, republish it on LinkedIn. (Just make sure to link back to the original article.)
Not a writer? That's totally fine. Check out this newbie's guide to writing for LinkedIn.
6) Rearrange Your Skills and Endorsements
LinkedIn automatically lists your skills by the number of endorsements each one has gotten. However, that order doesn't always reflect their order of importance. To give you an idea, say "lead generation" is currently your top-endorsed skill. But since you sell an ad analytics platform, you want "display advertising" in first place.
You can reorganize this section by clicking the pencil icon next to any of your skills. Next, drag and drop your skills into your desired order.
7) Add Your Interests
If a prospect views your profile and sees you share a common interest, they'll be primed to see you as a human — not a faceless product-pusher.
Remember to keep your interests dinner-party-friendly. In other words, if you wouldn't talk to a new acquaintance at a dinner party about it, don't put it on your profile. You should also try to select a fairly broad list of interests so that you don't alienate anyone. For example, you might add "travel, fly fishing, historical fiction, cooking, architecture, and rock climbing."
Just make sure these are genuine interests. A short list is better than dropping in a ton of hobbies you're barely familiar with.
8) Change Your Group Visibility Settings
Hopefully, you're using LinkedIn groups to find prospects and build your credibility. (And if you're not, get on that immediately!) But you're also probably a member of several sales-focused groups, like Sales Best Practices or Technology Sales Professionals.
When prospects are browsing your profile, you want them to focus on the first type of groups. Luckily, you can actually select which are visible on your profile. Go to the Groups section and click the "Visible" button under a group you'd like to hide. Next, uncheck the box that says "Display group logo on your profile." Repeat these steps for every sales group you're in.
9) Create a Custom URL
Having a custom URL shows that you've taken the time to make your LinkedIn as user-friendly as possible, which will give you an extra credibility boost. To change your URL, find your current profile link under your headshot. Click the gear icon. You'll be taken to a new page. Under the "Your public profile URL" section on the right, choose the Edit icon next to your URL, type the last part of your new custom URL (e.g. firstnamelastname, and save it.
10) Add Your Volunteering and Nonprofit Experience
Your profile should showcase your professional strengths and experience — however, it can also give the prospect insight into your personality and show them you're a real person. If you're involved in any charity work, you should definitely add it your profile.
You'll find the option to add organizations, causes, and volunteering experience in the "Add a section to your profile" box near the top of the page.
11) Follow Some Influencers
Prove your industry expertise by following its top influencers — and even better, actually reading their content. LinkedIn has bestowed influencer status on roughly 500 of the world's foremost thinkers, leaders, and innovators. You can figure out which influencers are most well-known in the space by checking out who your prospects follow.
12) Follow Your Prospects' Companies
To show prospects you're actually interested in them, HubSpot sales trainer Barrett King recommends following their companies. Just type their organization's name into the search bar, find their page, and click the "Follow" button in the upper right-hand corner.
Final Steps
You're not done yet. After you've finished editing, turn your network updates back on. Your connections will be back to getting alerts about your LinkedIn activity.
Now that your profile is looking great, your final mission is attracting some eyeballs. Go to your homepage and click "Share an update." Then, in a separate tab, find a news article, blog post, or thought piece related to your product or space. Copy and paste the link into the update box, add a quick comment (for example, "Great report on the state of inbound marketing"), and click "Share."
Your update will show up in every single one of your connection's news feeds. They'll naturally be drawn to click on your profile — and when they do, they'll be impressed.