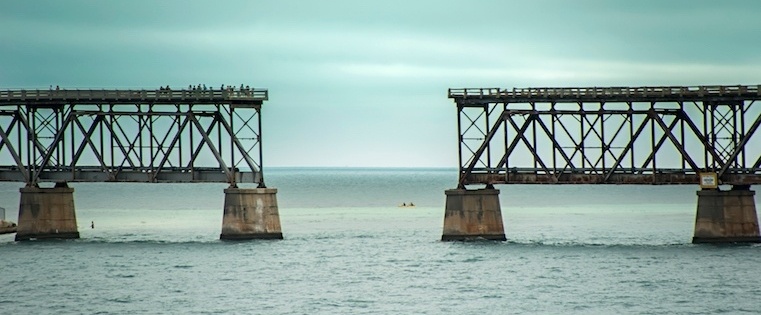 In the modern era of sales, buying decisions don't always travel in a direct line from interest to purchase. Instead, you should expect that a portion of your deals will encounter significant interruptions.
Why?
Many decisions are now made by committee. In fact, an average of 5.4 people are involved in every B2B purchasing decision, according to CEB. The more people involved in a purchase process, the more needs, priorities, and preferences need to be satisfied to reach a consensus. In addition, the greater the number of stakeholders, the more opportunities there are for any one of them to delay, stop, or take a detour from the process.
Therefore, managing interruptions in the sales process has now become an important component of any good sales plan and something you should be able to anticipate.
Common Interruptions and How to Handle Them
Before we get into the three types of sales interruptions and how you should overcome them, I want to note two things.
First, short delays are inevitable and relatively easy to overcome without significant impact to your sales process. These small interruptions are a just a part of life; for example, a decision maker is out sick with the flu, or on vacation, or moving to a new home.
You don't need to go into full attack mode when this happens. Confirm with your decision maker and coach that you're on the right track and do a bit of re-qualification to ensure you and your prospect are still on the same page. Then, ask for the earliest time they'll be able to re-engage. In general, minor interruptions shouldn't delay things by more than a week.
Second, there is one interruption that's been really hard for me to overcome, and that is if my prospect tells me: "I'm sorry, but my company is being bought out / is going bankrupt / is being wound down."
In B2B sales, if there is no business, there is no business pain I can solve. This type of interruption is rare and painful, but if your target account literally no longer exists, there's not much you can do about it. Offer your condolences and move on. If you have been successful addressing this scenario, please drop some wisdom in the comments below.
The other three (much more common) interruptions, however, are perfectly manageable. Here are some solid strategies with which to approach them.
1) Your coach, executive sponsor, or economic buyer is terminated or resigns.
What this means for you
An executive sponsor is someone at your target company who has access to all levels of the organization. They are more likely than anyone else to have a bird's-eye view of the goings-on of their business and will be able to give you insight into organizational strategy or high-level changes. A coach performs a similar function but at the level of the specific purchasing process, and the economic buyer is the person who buys and/or implements the product/service.
If either of these points of contact or the economic buyer left of their own volition and without much notice, there could be a significant lag while they're being replaced (although in the case of a termination, the company might already have a replacement lined up).
What you should do
Call your remaining points of contact and find out what's going on. Who's taking over the departed employee's responsibilities? Get in touch with that person, introduce yourself, and see if the sales pursuit is still live. If necessary, confirm the need still exists and determine how to get restarted.
Is the replacement going to be an internal or external hire? If an internal promotion is filling the role, the delay will be shorter. This person has proven their capabilities and doesn't need to be re-interviewed. This is good news for you since the replacement has likely built up enough internal authority that they'll be confident implementing a new solution.
However, it might take two months to identify viable candidates for an external replacement. In addition, many people won't want to start with a new service until the position is filled — and even then, a newer hire might not feel empowered to strip out an old system and replace it with yours.
The best thing you can do is gather as much information as possible and try to replace your coach or executive sponsor. Offer to help. Stay in touch with key people on the account to stay informed of what's going on, and establish relationships with new stakeholders as they appear. Strive for a weekly touchpoint if the deal gets pushed by months, or twice a week if it gets moved by weeks.
2) The decision maker loses budget.
What this means for you
This is a serious interruption, but not one a fatal one. It requires that you set a long-term strategy instead of dreaming up ways to make money appear in the next two weeks.
What you should do
Default back to Always Be Helping mode. Keep yourself front-of-mind in a way that isn't annoying. Ask, "What can I do in the interim to keep helping you solve X problem and revisit our plan when your funding comes back?"
Depending on your offering, this could take the form of an extended trial, a weekly consulting call, or even a creative discount. If the need still exists, you can work with your contact to figure it out. How can you help your prospect get funding back? Who else in the organization has a budget they can tap into? Remember, budget can almost always be found if there is a proven need.
Whatever you decide to do, design your strategy to keep your conversation with the prospect alive. Continue to offer them value without being overly salesy, and you'll be top of mind when they're able to buy.
3) The problem has been deprioritized.
What this means for you
Rarely is a business need satiated until a prospect has bought a solution. So unless the deal is closed-lost to a competitor, your deal isn't totally dead — this is more likely a timing issue than anything else.
What you should do
The moment you get the "We're sorry, but X pain is no longer a priority for us at this time" email, call your prospect or set up a time to do so.
Having a live conversation is critically important — you're more likely to get the truth when speaking to someone in person.
Then, see if you can secure agreement to go to the top. Call up your executive sponsor and ask her what's going on. Oftentimes, an internal initiative is competing with your deal. Let your prospect know you've spoken with an executive and ask what you can do for them while they're getting other things off their plate.
You can also offer to help your prospect get their ducks in a row for an eventual purchase. Find out what you need to do to tee up a purchase, whether it's prepping materials for a legal review or putting together a business case for your prospect to present.
The key here is to understand why the initiative has lost priority and determine if there is a logical plan to bring it around.
Bonus: The #1 Interruption
Of course, the ultimate interruption is a prospect picking a competitor — but there are ways around that as well. What do you do if you lose a deal?
Don't freak out. What's done is done — move forward.
Don't burn any bridges. You don't want to lose a relationship forever because you acted unprofessionally.
Offer to continue to help. Don't be overly pushy, but your insights might very well still be valuable to your prospect. See if there's anything they're still unsure about and could use your guidance on.
Offer to connect again in the future. Let your prospect know you'll be there for them if it turns out they made the wrong choice.
Interruptions are an unavoidable part of the sales process, and it's easy to let one obstacle completely derail a deal. But if you prepare for them and handle them the right way, interruptions become nothing more than objections you can successfully overcome.
What kinds of sales interruptions have you encountered and how did you overcome them? Let us know in the comments below.