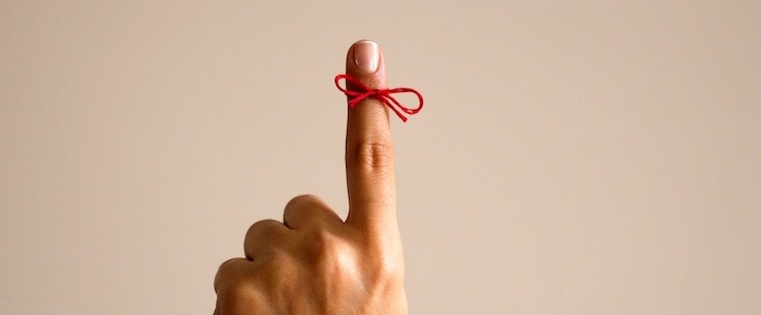 There's nothing worse than seeing a familiar face and having no idea what their name is. No, wait — there's nothing worse than seeing a familiar face, having no idea what their name is, and then hearing them call you by name.
But good news: Being horrible with names isn't an incurable condition. On the contrary, there are several steps you can take to transform yourself into a master of recall — so you'll avoid those awkward "Hey … um … you!" moments and make everyone you meet feel memorable. Here's how.
Strategy #1: Create Visual Hooks
This easy yet insanely effective technique comes from Nelson Dellis, four-time winner of the USA Memory Championship. It works by creating a visual reminder of someone's name.
First, the next time you meet someone new, pick out the most memorable part of their face. That could be anything from an unusual eye color to a large mole, so long as the feature is noticeable and permanent (i.e., not someone's dark lipstick or scruffy beard).
Next, turn the person's name into an image. For instance, let's say you meet a man named Harrison; you might picture Harrison Ford, or a "hairy son."
Finally, take that image and mentally "attach" it to the person's face, using the prominent feature as an anchor. If Harrison has a mole on his nose, for instance, you could imagine Harrison Ford on top of the mole. Visual hook created.
The next time you run into each other, you'll see the mole, think of Harrison Ford, and bam — Harrison's name is on the tip of your tongue.
And for maximum impact, don't be afraid to get weird with your images. From personal experience, it's much easier to remember Britney Spears dancing on top of someone's nose than a smiley face on someone's cheek.
Strategy #2: Use an App
Unlike humans, computers have perfect memories. So if you're always forgetting people, download Remember, an app that'll store all those connections for you.
Every time you meet a new person, enter their name in the app, their contact info if you have it, and a note (maybe about something you two discussed, or a cool detail they shared). The app will automatically search Facebook to find a picture of your new acquaintance, so you'll also have a visual to reference.
Remember keeps a log of the people you meet each week; to stay up-to-date, just swipe through the list while you're waiting in line or hanging out on the couch. Plus, it automatically keeps track of where you met each person and will send you notifications when you go back — for example, "Last time you were at the Copley Convention Center, you met Frank Underwood and Garrett Walker."
Need to remember a specific set of people? Check out Name Shark. This app lets you create virtual flashcards for your contacts so you can test yourself on their names. While you probably don't need a flashcard for every single person you meet, Name Shark comes in handy when you're preparing for an event or prepping for a demo. Automatically upload contacts from Facebook or your phone, or enter them manually.
Strategy #3: Sneakily Get Them to Say Their Name
Even the best of us occasionally blank on a name, but that doesn't mean you need to give up and ask for it. (Or worse, try to struggle through the conversation without it.)
Whenever I can't remember a name, I look for an opportunity to introduce the person to someone else. The key is introduce the person you know to the person you don't, rather than the other way around. If you follow this order, the unknown person will naturally introduce herself.
For example:
Me: This is my coworker, Aaron. He's also obsessed with Man vs. Wild.
Person Whose Name I've Forgotten: Another Bear Grylls fan? I like you already. I'm Abby.
Of course, there are plenty of situations where this strategy won't work. Maybe you just casually bumped into someone while shopping or running errands, or there's no one around to introduce.
In these situations, ask, "Hey, how do you spell your name?"
They'll usually respond by spelling it — which obviously reminds you of their name — then ask, "Why?"
Casually reply, "Oh, for some reason I thought you spelled it [alternate spelling]. My friend with the same name spells it that way, and he is always curious to meet other people who do, too." Awkward moment averted.
As Dale Carnegie said, "Remember that a person's name is to that person the sweetest and most important sound in any language." Walk around with these three tricks up your sleeve, and everyone you will meet will automatically like you a little more.