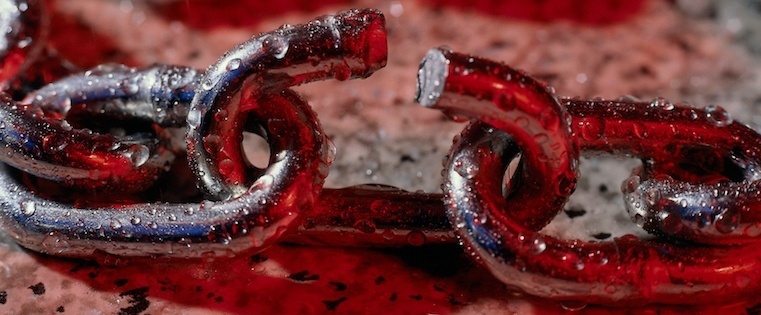 To get people to do what you want, you must help them remember what you want through persuasion, which is a function of influencing others' memory.
But it's not easy to capture people's attention. The four presentation approaches below are in dire need of updating because they lead to anemic messages that weaken our persuasion. Avoid each of these tactics in your next presentation.
1) Stop using the word "agenda."
Agendas are useful. After all, an audience wants to know how you'll occupy their time. However, packaging your objectives under the word "agenda" is a missed opportunity to offer the viewer's brain something truly rewarding.
Agendas are somewhat rewarding, because they hold the promise of organization, but promising organization does not guarantee sustained focus and persuasion. For example, in the slide below, once you've seen the cliché photo, the word Agenda attracts the most attention. You can create a slide like this in no time, but audiences also forget it in no time.
In this instance, when I asked the presenter what the content was really about, he said it was about the future of telecom, where it may be possible to eliminate the number of data centers needed by using new, global technology. This does not necessarily mean fewer jobs; it may mean fewer buildings, which has economic and social benefits.
Imagine replacing the clichéd picture above with one that shows contrast: An area packed with stark buildings and one tree, versus an area with only one building and hundreds of trees in a park where people are having a good time. The title might be: "The refreshing future of a global network."
This second version would take much longer to create, and that's true. Typing the word Agenda in a slide and searching a stock photo database for "businesspeople talking" takes minutes. Coming up with a rewarding title and visualizing it well takes hours. But we often need extra effort if we want extra memory. A slide slapped together quickly may be an invitation to forget.
Other terms that find themselves in a similar anemic position are "outline," "project updates," or "objectives." You don't have to eliminate these words completely, but if they appear by themselves and are not accompanied by big rewards, they force the brain to look elsewhere.
When you are tempted to use words that simply state a topic, keep this in mind: The brain does not have energy for topics; it has energy for rewards. Very few topics are intrinsically rewarding (e.g., "Here is an outline of the iPhone 9 features"), so consider spending extra time positioning them as rewards.
2) Be cautious of the T3 principle.
This outdated approach to presenting content instructs speakers to "tell [your audience] what you're going to tell them, tell them, and then tell them what you've told them."
The strategy implies that you're repeating the same message in the same way only two times: In the beginning and in the end. If your goal is to influence people's memory with precision, the T3 approach is weak. Presenting a consistent message twice does not guarantee memory and persuasion.
Why is it important to repeat the same message multiple times? Just because people are listening to you or viewing something you wrote does not guarantee their focus. To be remembered, a message has to be reactivated multiple times — in the format in which you want people to remember it. Otherwise, you're leaving the memory of a specific message to chance.
An audience will — for most part — extract something from your communication by looking to detect patterns. And they will detect patterns even where there are none, which is why someone might remember some random statistics you shared or some tangential remark.
When you activate the same message multiple times, repetition signals the brain that something is important and you are in charge of that signal. In addition, consistent repetition helps you with credibility, because that which is perceived as consistent is also equated with validity, which is persuasive.
Keep in mind that people make decisions based on what they remember, and if you're only mentioning something twice, they will likely forget it. A persuasive message is a consistently persistent message.
3) Reconsider cliché metaphors.
At least once a month, I see some form of communication that uses a space travel or a mountaineering metaphor or, worse, both in the same segment. Typically, people use these metaphors to simplify a complex concept and inform us about upcoming technology or processes approach old business in new, creative ways.
While these metaphors help to make a point very quickly, they don't always lead to memorable and persuasive content. Here's why.
Lots of other people are using the same metaphor (Google "space shuttle metaphor" and you will see over 100,000 entries). As noted earlier, forgetting is often caused by interference, meaning that when too many messages are alike, we won't know who said what.
A fresh metaphor requires extra cognitive capacity for your audience to understand it, but not so much that it's too difficult. Whenever we share metaphors, the brain expends some energy to comprehend them — and cognitive energy is often in limited supply. When there is too little energy or too much energy left, persuasion is diminished, either because the task is too hard and we don't want to bother or because it's too easy (like showing a picture of the moon landing) and the brain can go on to think of something else or worse, come up with counter-arguments.
A fresh metaphor also invites engagement because your audience's brain will try to fit the new concepts together and make sense of them. This type of engagement creates memory traces. In addition, a more common object has the potential to lead to additional semantic connections and environmental triggers, which also helps with recall. You're more likely to be persuaded by something you continue to see in your environment than by something you hardly ever see, like a space shuttle.
4) Stop saying, "If you remember nothing else … "
This is a weak statement that needs rephrasing. It implies that the rest of the communication you shared is useless, and only the part you're about to emphasize is important.
To be memorable and persuasive, replace "If you remember nothing else" with "All the content shared so far is meant to emphasize that [insert most important message here], which will serve you well."
With this approach, you remind people of what's essential and how everything else you say is not extraneous but rather contributes to the strength of your main message. Audiences will be better persuaded when you share content that is rewarding, consistent, relatable, and useful.