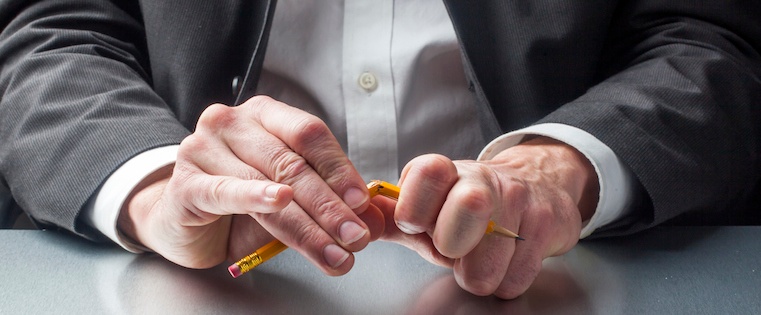 Great salespeople are tough to find. According to the Manpower Group's 2015 Talent Shortage Survey, sales jobs are the second-hardest position to fill worldwide. 
And now that it takes the average company an all-time high of 27 days to make a new hire, you might be tempted to extend an offer to any candidate who seems like they'd reasonably meet the mark. 
But before you start writing up an offer letter for a candidate you feel lukewarm about, press the brakes. Hiring the wrong person for the job can be costly — and if they end up leaving or getting fired, it'll take even more time to replace them than hiring the right person in the first place. Your best bet is keeping your standards high and only giving offers to the most qualified candidates.
Wondering which red flags to look for? Read on for six warning signs you shouldn't move forward with a candidate for a sales position.
1) They Only Know the Basics About Your Company
Pay close attention to the candidate's response when you ask what they know about your organization. If they can only give you a short run-down of details lifted straight from your website, it's a major red flag.
Sales reps need to do research on each and every prospect before they reach out. If a potential hire can't be bothered to dig into your company's background when a job is on the line, the chances that they'll do so in a lower-stakes situation are almost nil.
2) They're Vague on the Details
It doesn't matter how impressive a candidate's past performance may seem: If they're unable — or unwilling — to explain how they achieved those numbers, you should think carefully before extending an offer.
For example, maybe a candidate says she usually books 20 appointments per week. Great, but how many calls is she making to get those meetings? How many prospects end up buying? What's her lead to close ratio compared to the other members of her team? Without the context around the numbers, it's nearly impossible to accurately evaluate her performance.
Any candidate who falters to provide the story around the numbers is either hiding something or flying blind.
3) They Don't Align Well With Your Culture
Why do 89% of new hires fail? They were a poor cultural fit. Candidates who clash with your workplace's core beliefs, behaviors, and attitudes are usually unhappy — and unhappy people rarely thrive in their jobs. Plus, you don't want to spend all your time forcing someone to work in a way that feels unnatural to them.
Here are three questions to screen for cultural fit:
"What motivates you?" Look for motivators that align with your team's motivators. For example, "collaboration" won't be the best answer if your current reps love to compete.
"One of our values is X. Can you give an example of how you've manifested X in the past?" It's hard to prepare for this question, so you'll typically get a genuine answer. People who can come up with a compelling situation in which they've demonstrated that value usually believe in it.
"Which type of work environment makes you most productive?" Make sure the candidate's preferred working conditions match up with your company's. For example, candidates who prefer total autonomy will struggle in a open office, while someone who likes order and structure might find it difficult to adapt to a startup's fast pace.
4) They Can't Accept Feedback
If a candidate can't accept constructive criticism and then apply it, you should think twice before bringing them on board.
Mark Roberge, senior lecturer at Harvard Business School, tests for coachability by asking interviewees to role-play an initial call with a prospect. 
Then, he asks the candidate how they think they did. Their answer tells him how self-analytical they are: Do they mention specifics about what went well and where they could improve?
Roberge provides some of his own positive and constructive feedback before asking them to do the role-play again. If they make the effort to incorporate his feedback in the second round, he weighs that heavily in their favor. However, if the candidate has a hard time even absorbing his comments, Roberge might conclude they're not coachable enough.
5) They've Been at Their Current Job for Less Than Six Months
According to a Sales Readiness Group white paper, the average ramp-up time for a new salesperson is six months. 
With that in mind, you should be wary when a candidate has spent less than half a year in their position. Why would they leave when they're in all likelihood just hitting their stride? Maybe the candidate thinks they're going to fail in their current role once they're on full quota, so they're cutting their losses. In other cases, salespeople leave because they hate their employer — or they've decided they don't want to put in the time and energy to familiarize themselves with a highly complex product.
Even if a candidate is a strong salesperson, consistent job hopping should be a red flag. You don't want to waste precious time and resources training someone who's not committed to your company. Plus, frequent turnover hurts your team's culture and brings down morale.
6) They Don't Have Questions for You
After you've finished asking your questions, does the candidate ask you some thoughtful questions of their own? Good salespeople are innately curious. Digging into their prospect's pain points and desires comes naturally to them, since they're driven to learn everything they can.
That's why a candidate who doesn't pose any questions should set off alarm bells in your head. As VP of Sales at SmartBear Software Jim Schuchart explains, "I don't necessarily care what you are curious about, so much as that you are curious."
By identifying salespeople who won't cut it before you hire them, you'll save money, time, and effort. A candidate might look good on paper, but if they exhibit any of these six signs, move on to the next one.