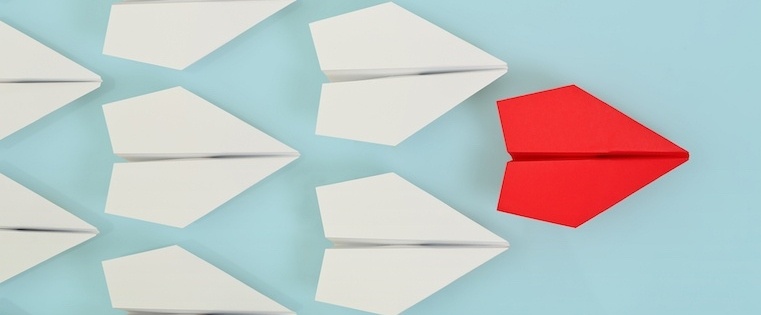 After DataFox transitioned from founder-led sales to having a proper inside sales team, it took me a while to figure out where I, as CEO, could add the most value on the sales front without getting in the team's way.
Our first customers, as is often the case with software-as-a-service (SaaS) startups, were closed by myself and my co-founders through brute force. Our product wasn't really market-ready, but through our networks and unfettered enthusiasm, we wrangled a few early-adopters across the line.
As the product and our product-market fit matured, the time came to start building an actual sales team. We implemented a CRM, established rules of engagement (i.e. which salesperson owns which prospect and when), and brought in seasoned sales reps.
Today we have a nine-person sales team including sales development representatives (SDRs, who handle inbound opportunities), business development reps (BDRs, who conduct outbound prospecting), and account executives, who close deals.
Every individual on the team has more sales experience than my three co-founders and I combined. So I quickly got out of the way and let the team run and iterate on their process.
There are, however, a few ways in which the sales team calls on my help in the origination, acceleration, and closing of deals. If you're a startup founder wondering how to help your sales team, read on.
1) Lead Generation: Always Be Prospecting
As a co-founder and CEO, I'm constantly on the front lines, meeting potential recruits, partners, investors, advisors, and of course — potential customers.
Whether I'm at a conference or in a one-on-one meeting, I'm always thinking about ways our solution can help people get their jobs done more efficiently.
When I hear someone talk about their desire to be more data-driven in their prospecting, I know we'd be an excellent solution for them.
The critical next step is to, within 24 hours, contact that person with a clear suggestion as to how you could help them. Here's an example:

Don't skimp on research, but have a template ready for the repeatable parts of your email.
Invariably, people love helping startups, and I often get the question, "How can I help?" If you're a B2B startup, this is a great invitation to prospect into new sales opportunities.
I try to come away from every single external meeting with at least one new prospect. Shoot the introducer a short email they can forward, with at least one or two sentences about why the introduction might be mutually beneficial.
2) Acceleration: Offer Yourself as a Resource
Enterprise sales can be complicated, and a critical step often involves getting buy-in from key decision makers. Even if the prospective users of your product love it, the deal won't close without a clear line of sight to the person ultimately signing the contract.
This is the number-one way our sales team asks me for help. If we aren't already talking to senior folks at the company, I send an email to open up a dialogue and offer myself as a resource.
I've found that the critical step here is to do your research. Don't send a template email without doing your homework first. I don't feel comfortable emailing an executive until I've read up on their background and have a concrete understanding of how we can help their company.
For example, if I wanted to reach out to HubSpot's CTO, Dharmesh Shah, I'd look him up on LinkedIn, check out his blog, follow him on Twitter (if I don't already), and summarize my notes in Evernote:
Dharmesh Shah
Intro by [if someone connected us]
Bio:
UAB (CS)
SunGard — developer '92-'94
Pyramid Digital Solutions — founder & CEO '94-'05
MIT '04-'06 (Mgmt of Tech)
OnStartups — blog since '05
HubSpot — founder & CTO since '06

Grew 65% in headcount in last 2 yrs
20,000 customers
Investing heavily in HubSpot CRM
I also use DataFox's free company profiles and similar companies lists to quickly get business context for conversations. Here's what a sample email to Dharmesh would look like: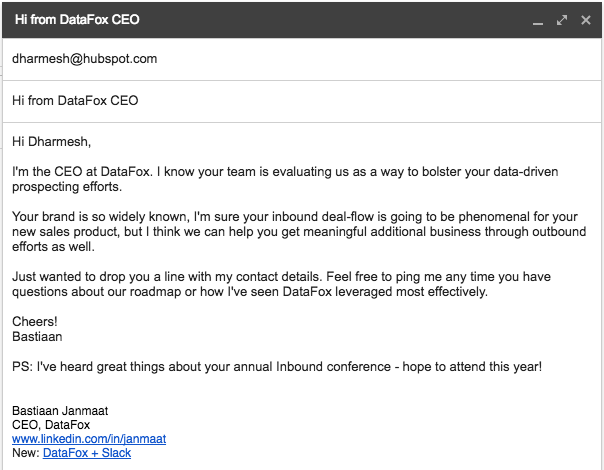 Study habits vary widely, but I know my understanding and recall are dramatically improved when I summarize my subject matter in writing. I also like having this in Evernote for easy reference later on, if we end up scheduling a call or a meeting.
My experience has been that fewer than one-third of prospects take me up on a call right away, but another one-third are interested in a chat later or after the deal closes. Either way, it helps with deal acceleration to ensure that senior decision makers hear about our company and that they see we're taking this seriously at the executive level of our company as well.
3) Closing: Get Involved in Technical Calls
A third, hugely important way in which founders can help their sales team is by acting as sales engineers, joining calls to answer technical or product roadmap-related questions.
As we grow, our company will probably have sales engineers, but we don't have that luxury yet. So my co-founders Mike, Ben, and Alden happily jump on calls to answer questions and offer guidance.
The benefits of these calls are manifold. They show executive involvement, they help settle any uncertainty, and, perhaps most importantly, they educate us on our prospects' needs.
How do you help your team sell? Let us know in the comments below.