The old prospecting playbook is broken. Cold calling. Cold emailing. Pitching your value proposition in your first prospecting email and on every voicemail thereafter. All of these techniques are rock-solid recipes for being ignored, deleted, blocked, and reported to the spam cops. Unfortunately for you, you're probably still relying on them.
Let's talk about fixing that.
There are companies that are figuring out the new playbook. They're figuring out how to be relevant and engaging for their buyers, and it's getting them better results. One such company is Imagine Business Development, an outsourced sales development firm. Unlike most sales development shops that are better described as outsourced cold calling shops, Imagine combines inbound marketing processes with proactive prospecting services.
Since they began offering this combined service for different clients, they have achieved some significant productivity improvements. Results, of course, vary from client to client. But Doug Davidoff, Imagine CEO, says, "We've achieved double and sometimes triple the email prospecting open rates, four to seven times the response rates, and our sales development reps (SDRs) have doubled their average number of conversations in a day."
I've had many conversations with outsourced sales development firms attempting to add inbound lead generation services into their offerings, but very few have actually pulled it off. As a HubSpot Gold Partner, I've gotten to know Doug and the team at Imagine quite well over the years and have been impressed with how their unique approach drives growth for their clients as well as their own firm.
Here's what Imagine is doing differently.
Skip the Cold Calling
Imagine's mantra is "sales development without inbound marketing is just old-school cold calling."
Many companies are building out sales development teams, but "they too often go right to outbound calling and extremely promotional prospecting emails," Davidoff says.
Whereas most companies build SDR teams to either make outbound cold calls or respond to inbound leads more quickly than quota-carrying reps can (also called "inbound response reps" in this case), Imagine has integrated their SDRs' efforts as part of their client's inbound marketing process. Imagine's SDRs are truly developing sales opportunities.
"Sales development reps should bridge the chasm between marketing and sales efforts by leveraging content to engage prospects that haven't found the company yet," Davidoff says. "They integrate the inbound methodology into their email prospecting and proactive calling processes. In addition to doubling the number of appointments per day in the short term, this process has the added benefit of helping their client's marketing teams build a bigger, more targeted database of contacts that can be nurtured for future sales."
While cold calling holdouts suggest that outbound is necessary for companies that want to grow faster than their inbound marketing results can support, Imagine's results suggest that sales development reps can help accelerate inbound marketing and sales results at the same time. This proactive inbound sales and marketing process, Davidoff says, "is the secret to producing short- and long-term results that are better than when inbound and outbound are executed in parallel and separately."
Utilize Content to Challenge Prospects' Thinking
The first step Imagine takes when taking on a new client is to map out a content plan.
"When we implement sales development efforts, we start by ensuring we've got solid content in place," Davidoff says. "The content puts our SDRs in a position to give value before they ask for anything from the prospect, and it puts them in a teaching and helping position, not just a selling one."
Not just any content will do. It must get the prospect to think critically about their situation. Many sales teams ascribe to CEB's Challenger Sales approach. But salespeople can convince prospects to think differently when content backs up their statements.
"Sometimes, content can challenge prospects better than people can," Davidoff says. "Salespeople who know how to challenge effectively matched with content that supports the salesperson's point of view are even more powerful."
Of course, not every attempt leads to a sales appointment right away even though short-term sales results are significantly better when content is used. The added benefit of introducing content to prospects when they are in the awareness stage of their buyer's journey is that it helps to grow the database of leads. Imagine then nurtures these leads using marketing automation, further decreasing their need to rely on proactive outreach in the future.
Uncover the Prospect's Compelling Reasons to Change
Imagine uses a concept called High Probability Indicators (HPI) as part of their qualification process. HPIs are the few issues that are big enough to warrant a prospect to change their behavior and invest in a solution.
Davidoff explains, "There are a hundreds of reasons people will talk to a salesperson. There are many reasons they might like a salesperson or their company. But change is hard, and there are only a handful of reasons they'll consider investing in a solution, since buying something new or switching providers requires at least some change."
See a table below that spells out several HPIs for one of Imagine's clients, MacNair Travel Management Company, a corporate travel management firm.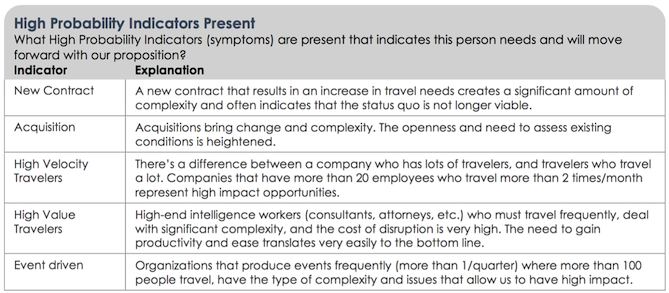 Imagine's SDRs focus on these handful of change-inducing issues, and have in-depth conversations about these challenges and the ways their client's services solve them.
Craft Effective Prospecting Emails
Corporate travel is a competitive industry, so Imagine's first challenge was to find the HPIs that would compel a prospect to change. To do this effectively, Imagine focused on a niche market their client already serves well: Government contractors that employ 50 to 150 employees who travel at least six times per year for business.
Government contractors must allocate their expenses precisely to ensure they get paid correctly. When contractors struggle with this, they often have trouble maintaining margins, so they often require experienced advisors to manage their travel for them. Fifty to 150 employees hits the sweet spot between a company too small to be worth MacNair's time and a company so large many other companies would be competing for the business.
After picking this persona and defining HPIs, Imagine created prospecting emails and call playbooks. Below is one of the prospecting emails that received a high response rate.
Hi Bob,
Because your company currently has contracts with DoD, Dept. of Labor, and GSA, you must regularly deal with cost compliance and reimbursement procedures. What you may not be as familiar with is the hidden costs your travel can be taking on your margins.
Having worked with gov't contractors like [sample clients] we've enabled them to recover costs that would not have otherwise been reimbursed, increasing their margin on the business by 1 – 3%. Key to this type of recovery is a well thought out travel policy and expense management system.
Is this an issue that you're dealing with? If so, I can share our experience in how to address it. Just reply to this email or call me at 555-555-5555.
P.S. We recently published a workbook on creating an effective travel policy that highlights some of the issues you can address. If you're curious, you can download it here.
In addition to this type of email, Imagine developed key talking points and questions that mirror the contents of the email.
So how effective was this strategy? More than $40 million worth of sales opportunities have been created for MacNair's pipeline over the last five months, with less than one full-time SDR allocation.
"We'd tried everything and have never been able to sustain a successful prospecting effort," Jess Cardenas, Marketing and Communications Director for MacNair Travel, said. "We've had more prospecting success over the last five months than we had the previous two years. Even more exciting is the fact that we have a sustainable lead pipeline developing in addition to our sales pipeline, that is allowing us to manage our sales resources and efforts with far more confidence."
Imagine Your Reps Selling Like Imagine's (Get It?)
Imagine Business Development has been able to drastically improve connect rates and pipeline for their clients. They do this by following a simple but effective process that puts the buyer's needs at the center. Here are five steps you can use to achieve similar results:
Define very targeted niche personas to approach. Go as niche as possible — you can always repeat this process for more personas later.
Define the issues your company solves that align with this persona's struggles.
Create and publish helpful, educational content that aligns with these issues.
Arm your salespeople with a conversation guide that gives them the ability to have an in-depth conversation about these issues.
Use the content and the conversation guide in your proactive telephone and email prospecting efforts.
"To ignite your sales results, you must be able to connect with prospects before they know they need something or need to change," Davidoff says. "This requires a proactive approach to prospecting. But once you engage, you must have the content, questions, and stories that challenge prospects to think differently. That content comes in very handy in other ways too. Since not every prospect will be ready to buy right away, having content in place to nurture them is critical." 
Imagine Business Development is a longtime practitioner of inbound marketing, and an even longer practitioner of telephone prospecting services. By combining the proactive nature of prospecting and the educational approach of inbound, Davidoff and his team have developed a more effective approach to booking qualified sales opportunities on a day-to-day basis.
Their approach also helps with long-term stability. If a lead isn't ready to buy, that's okay — Imagine builds an opt-in database of future opportunities by handing timing-disqualified prospects back to Marketing for nurturing.
If you're tired of getting diminishing results from your current sales and marketing mix or interested in building an effective approach that produces compounding results, maybe you should give this proactive inbound approach a try.