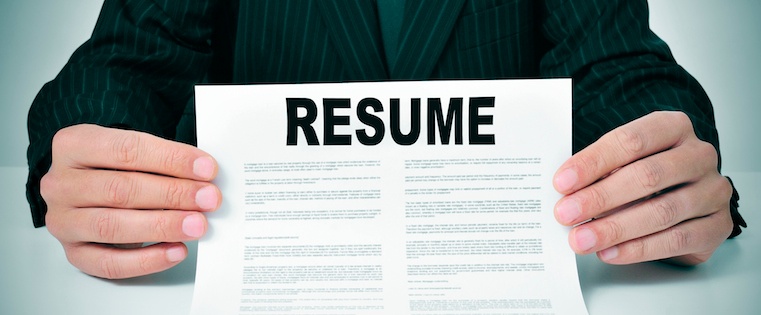 Nowadays, salespeople have to do more than ever before to be successful in their roles. Sales has shifted from high-pressure old-school tactics to become more focused on credibility, offering assistance, and listening, among other things.
In light of this new playbook, sales reps are developing new skills absent in the traditional salespeople of years past. Buyer-centric reps have to be able to do more than just talk and persuade — and they need to highlight their diverse skill sets on their resume if they hope to land a job at an organization with a cutting-edge sales team.
In the market for a new job in sales, but not sure how to structure your resume? Without further ado, here is what the modern salesperson's resume should look like.
(Click to enlarge):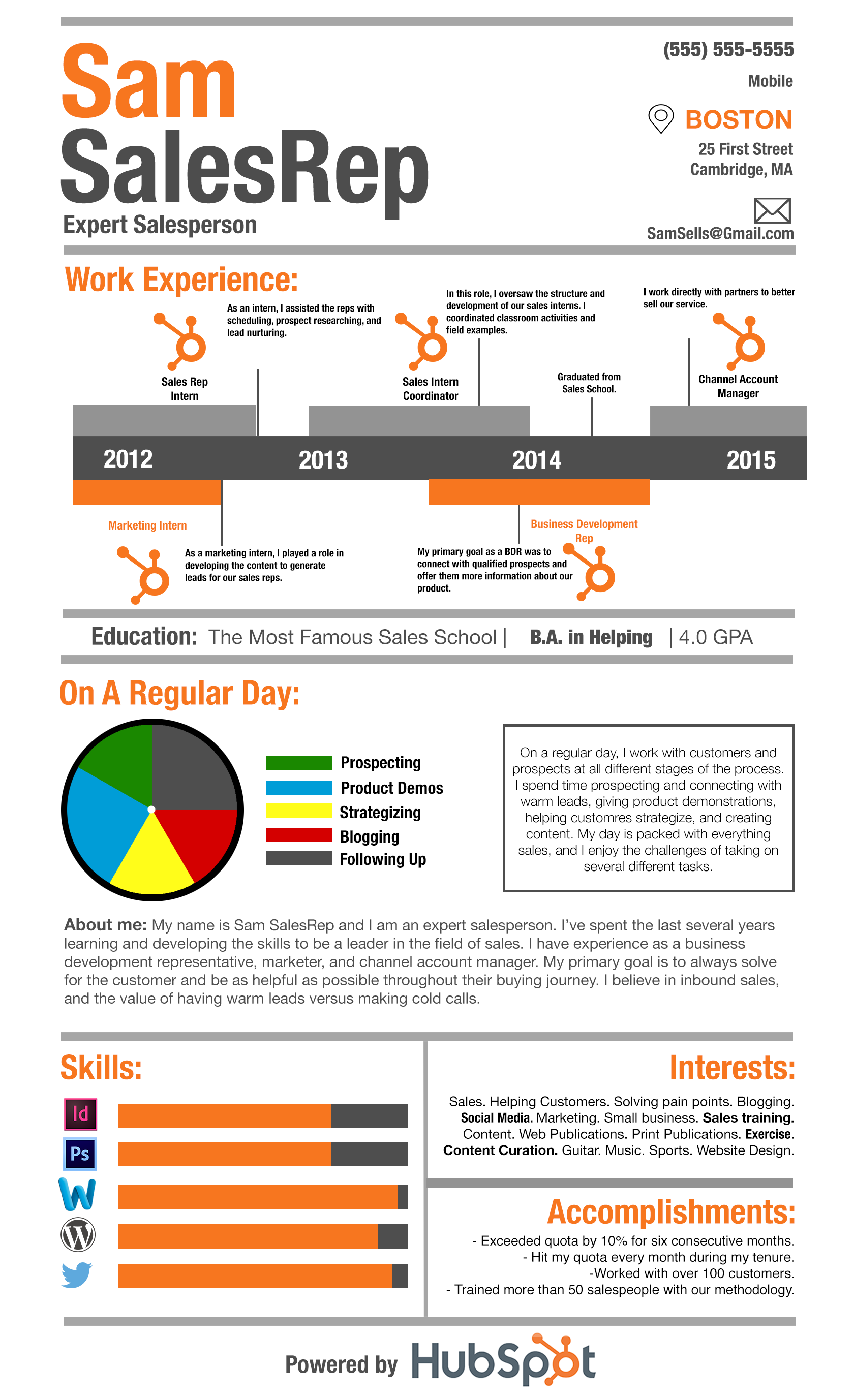 1) Your "about me" section
More important than skills or interests is your "About me" section. This is your opportunity to set yourself apart from the competition with a quick blurb about where you've been, what matters to you, and why you're a great fit for this job. Use the space to your advantage by being honest and up front. Recruiters will likely look to this section to determine whether you're a good cultural fit for their company.
When writing this section, there are the three main areas to cover:
Where you've been
Briefly touch on how many years of experience you have in this field — whether as an intern or a full-time employee.
Your primary goal
What is your mission? What is your objective? In our example, Sam's primary goal is to "solve for the customer." By listing your primary goal, you can let the hiring manager know what drives you day in and day out.
A specific reference to the job
Including something related to the job you're applying is important as well. For example, if you're applying for a management position, you might mention that you've developed the skills necessary to lead a sales team.
2) Your relevant experience
Whether you're applying for an internship or a full-time job, relaying your previous experience in a compelling way on your resume is critical. Hiring managers and recruiters want assurance that candidates will be able to hit the ground running after they go through basic training. Having a solid background will allow you to get going faster.
It's important to only list the experiences that relate to the job you're applying for, however. While most of us have held a job since we were teenagers, whether the skills you picked up in various roles are relevant or not is something you need to determine before listing them on your resume.
3) Your sales accomplishments
If you're coming from a sales background, you need to be able to showcase how well you've done in your previous roles. If you made quota every single month, it doesn't hurt to brag a little about it. When it comes time for the interview, talk about how you were able to crush quota month after month, and how you would bring that to your new position.
If you're not coming from a sales background, have you helped customers solve problems? Have you achieved something noteworthy in a different field? These success stories are important, too. Showcasing an ability to maintain a high level of performance in any field is critical.
Another area to focus is on is your accomplishments. How many huge deals were you a part of? Did you help develop a new selling process at your previous company? Did you mentor someone and teach them the ropes? Showing off your achievements is a must-do on any resume.
These are some examples of accomplishments you'd be wise to list on your resume:
Exceeded quota 12 out of 15 months at previous position

Helped develop the sales strategy for our direct team

Worked with over X customers during my tenure

Maintained a response rate of under 24 hours for an entire year

Was referred by customers for new business more than 20 times
4) Your notable skills
What skills make you a unique candidate? Maybe you've spent the last few years creating content around sales, or developing an analytical strategy for your team. This section of your resume is your chance to talk about where you shine, and what makes you a great salesperson.
The skills on a sales resume, however, might look a little different than skills on other types of resumes. Here are some examples of a few sales skills to remember to list:
Ability to coordinate prospect research
Every sales rep needs to be able to do thorough research on their prospects. Sales is about relationships, and reps need to know their prospects on both a business and personal level to be successful.
Confident giving product demonstrations
Regardless of what industry you're in or product you sell, giving a product demonstration is a crucial part of sales. Presenting a clear, informative, and memorable product demonstration is a skill every sales rep should develop – and talk up on their resume.
Ability to build rapport quickly
Most people make a decision about a person almost immediately after meeting them. Having the ability to build rapport with someone quickly and gain their trust and respect is no insignificant feat, especially if you're asking them to buy something from you.
4) Your responsibilities
What do you do on a day-to-day basis right now, and what have you learned from these tasks that you will apply to future roles? That's what this section is meant for.
Sales reps juggle a ton of responsibilities in a given day, and being able to handle several at a time makes for a great sales rep. These are a few responsibilities to focus on in the world of sales:
Prospecting efficiently and effectively

Overseeing a team of younger reps and serving as a mentor

Maintaining a busy schedule

Building out a pipeline and staying on top of inbound leads
5) Your interests
More important than where you've been is where you want to go. While you don't have to know where you want to be five years from now (or even one), it's helpful to have goals. Maybe your goal is to be a manager, or a sales trainer. Ambitions and interests play a critical role in hiring managers' personnel decisions.
The modern day salesperson has to be able to do more than just call someone up out of the blue and try to make a sale. They have to boast certain skills and unique traits that help them help today's buyers. When you're putting together your resume for a new job in sales, focus on the unique skills you bring to the table.
The door-to-door, cold call mentality is dead. The sales playbook has changed. It's time to change what's on your resume to keep up.