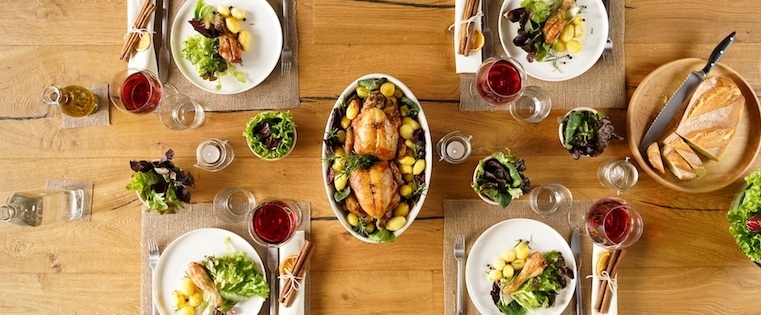 Lunch is often thought of as a time of relaxation. And it should be — but if you're spending the hour just lounging around, you're wasting an hour of your day that could be spent productively.
This doesn't mean you should work through lunch to stay productive. In fact, not taking breaks is precisely the kind of behavior that will make you less productive. As long as you're deliberate about what you do from noon to 1 p.m., there's no reason your lunch break can't be the most productive hour of your day.
1) Check your afternoon schedule.
Make sure you know what meetings and calls you have to be in after lunch. If you have a meeting in the early afternoon, give yourself enough time to prep for it so you're not rushing into the meeting with a sandwich wrapper in your hand.
More importantly, this calendar audit will inform how you triage your emails and to-do lists (see #2 and #3.). Do you have a big demo you'll need to pull people from other teams for who might have forgotten? A connect call you scheduled months ago with a prospect whom you no longer remember? Mark down any preparation you need to do for these meetings so you can take lunch without the nagging suspicion there's something you haven't done.
2) Triage email before you leave.
Don't come back to your desk with 50 unread emails. Before you head out, check your unread email queue and sort your emails into the ones that need a response today, the ones you can delegate, the the ones you can delete. That way, when you return, you can knock out the important emails and then get straight back to work.
3) Reorganize to-do list before you leave.
Similarly, it's annoying to come back to work and check your task list, only to find that it isn't up to date anymore. Reassess your to-dos before you leave for the afternoon — what will you realistically be able to accomplish, what's going to have to be pushed, and what straggling tasks can be deleted from your list altogether?
4) Take lunch away from your desk.
This is one of the most important items on the list. Even on days when you can't afford to take a full lunch hour, make sure you're getting away from your desk for at least 10 minutes to clear your head. This reset helps relieve mental fatigue, gives you a much-needed break that'll make it easier to focus when you do return.
Of course, if you can afford the hour, take it. Studies have shown that taking breaks is beneficial to your quality of work and ability to focus, and lunchtime is a built-in invitation to be away from your desk. Make sure you take advantage of it!
5) Eat the right foods.
The fact that you leave your desk is important, but even more crucial is what you eat when you do. Processed foods high in fat and sugar won't give you lasting energy and will most likely lead to the well-known post-lunch food coma.
Instead, eat foods high in protein to fill you and high in fiber to slow absorption of glucose and protect you from sugar crashes. Check out the best foods for productivity and afternoon snacks here.
6) Learn something.
Another thing you can do during lunch is learn something. Sales is a crazy profession, and it's sometimes hard to find time to work on things that aren't related to your immediate day-to-day responsibilities.
Whether it's listening to a podcast, reading a blog post, working on a side project, or chatting with a coworker about career growth, take time during this hour to grow yourself in a way that's not directly related to selling.
7) Work out before you sit back down.
No, I don't mean go on a half-hour run — that probably won't help and might even upset your stomach. But Conquer Today founder Jordan Arbuckle has a quick five-minute energy-boosting technique that has replaced his afternoon coffee: Two minutes standing in a power pose, one minute doing push-ups until exhaustion, and two minutes breathing deeply with your eyes closed. For more detail on how to use this technique, check out Arbuckle's blog post here.
Is there anything you do to make your lunch hour productive? Let us know in the comments below.