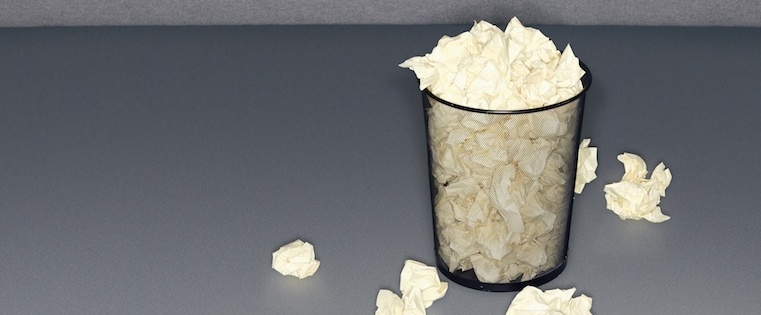 Recruiters might have to deal with literally thousands of resumes in a week. Which means it's all too easy for yours to be skipped over.
Even if you don't have any sales experience, the actual look and feel of your resume can bring you to the top of the pool. Similarly, a stacked resume can be brought down by a couple small typos. We surveyed sales recruiters, and found that these are the seven most common mistakes that plague sales resumes.
The 7 Most Common Sales Resume Mistakes (And How to Fix Them)
1) You had a "text wall"
Hiring managers often receive hundreds of applications for a single position. The average sales manager only spends 6 seconds looking at each resume. If your resume is difficult to scan, it's hitting the shredder.
2) You slacked on formatting
Format, format, format. There are literally hundreds of free templates online, here are some classic formats that I love.
3) You didn't articulate your skills and accomplishments
Don't undersell yourself — especially when applying for a sales position. Your resume is the fastest, most efficient way for you to show employers why they should hire you. It is socially acceptable to brag — in fact, it's encouraged.
Highlight your awards, your experience, and your accomplishments. Hiring managers are looking for your best, and if you don't promote yourself, they'll assume there's nothing special about you.
4) Your resume is (way) too long
Keep your resume to one page. Period. Highlight (not literally) your key responsibilities and accomplishments for each job, then move on. As hard as it is to keep things short, the one-page resume is the new standard.
5) You included nonessential information
The best resumes are short and sweet. Here are some topics that do not belong on a resume: Marital status, age, gender, astrological sign, etc. If it didn't pertain to your job performance, it doesn't need to go on your resume.
6) You listed outdated experience
Only include your most recent roles that complement the role you are applying for.
7) You didn't proofread
This seems like the most obvious mistake, but it can also be one of the most harmful to your job search. Make sure you have someone proofread your resume for typos and grammatical mistakes. In fact, have them proofread it twice!
Bonus Tip: Take Advantage of Job Marketplaces
Sending out resumes can become tedious and frustrating, I know. There are solutions out there that use a single resume upload to match you with hundreds of jobs. If you're looking for a new sales gig, Ideal only requires one resume upload to match you with every open role that meets your unique selling style and desired salary.
Your resume should be a clean, concise, positive representation of who you are as a sales professional. Anything I missed? Let me know in the comments. If this post was helpful for you, please share. Happy closing!
Are you looking for a sales job? Browse open sales roles on Ideal. Find your match and make more money.