Social selling is for millennials, right?
It's the established wisdom among sales professionals that old-school reps can learn new tricks, but it's just not in their blood. Like most pieces of established wisdom, however, it is completely wrong.
The First Mistake
For many departments that have been tasked with transitioning their selling process into the digital age, the shift starts like this:
Sales leaders put together a social selling pilot program.
Teams are formed by generation, with age assumed to be a determining factor in how well sales enablement and social selling training will be adopted.
Teams of millennials are assigned to the pilot program and given responsibility for lead generation and inside sales.
Although millennials are known for their social networking skills, does that necessarily mean that members of Generation X won't excel at social selling? One person wise enough to question that wisdom was Justin Shriber, head of marketing at LinkedIn Sales Solutions.
What LinkedIn SSI Measures
As part of the 2016 Digital Growth Conference, Shriber and his team studied a sample of LinkedIn Social Selling Index scores, breaking them out by age groups.
LinkedIn SSI scores are assessed based on four data inputs measuring how well an individual has:
Built a profile and published posts to support a professional brand
Used tools to make research and prospecting more efficient
Found and shared updates that resulted in deepened relationships
Established trust with a wide network of decision makers
The higher the score, the more likely an individual is to excel at social selling.
Shriber compared the SSI scores of sales professionals under the age of 35 (millennials) with those ages 35-45 (Gen X) and those over 45 (mostly Gen Xers, with some baby boomers).
Surprising Results
The results surprisingly showed that Gen X sales professionals posted much higher SSI scores. The highest scores came from the 45-plus group with an average SSI of 34. Next, the 35 to 45 age group was very close with an average SSI score of 33. In contrast, the social-native millennials had an average SSI score of 27. Why?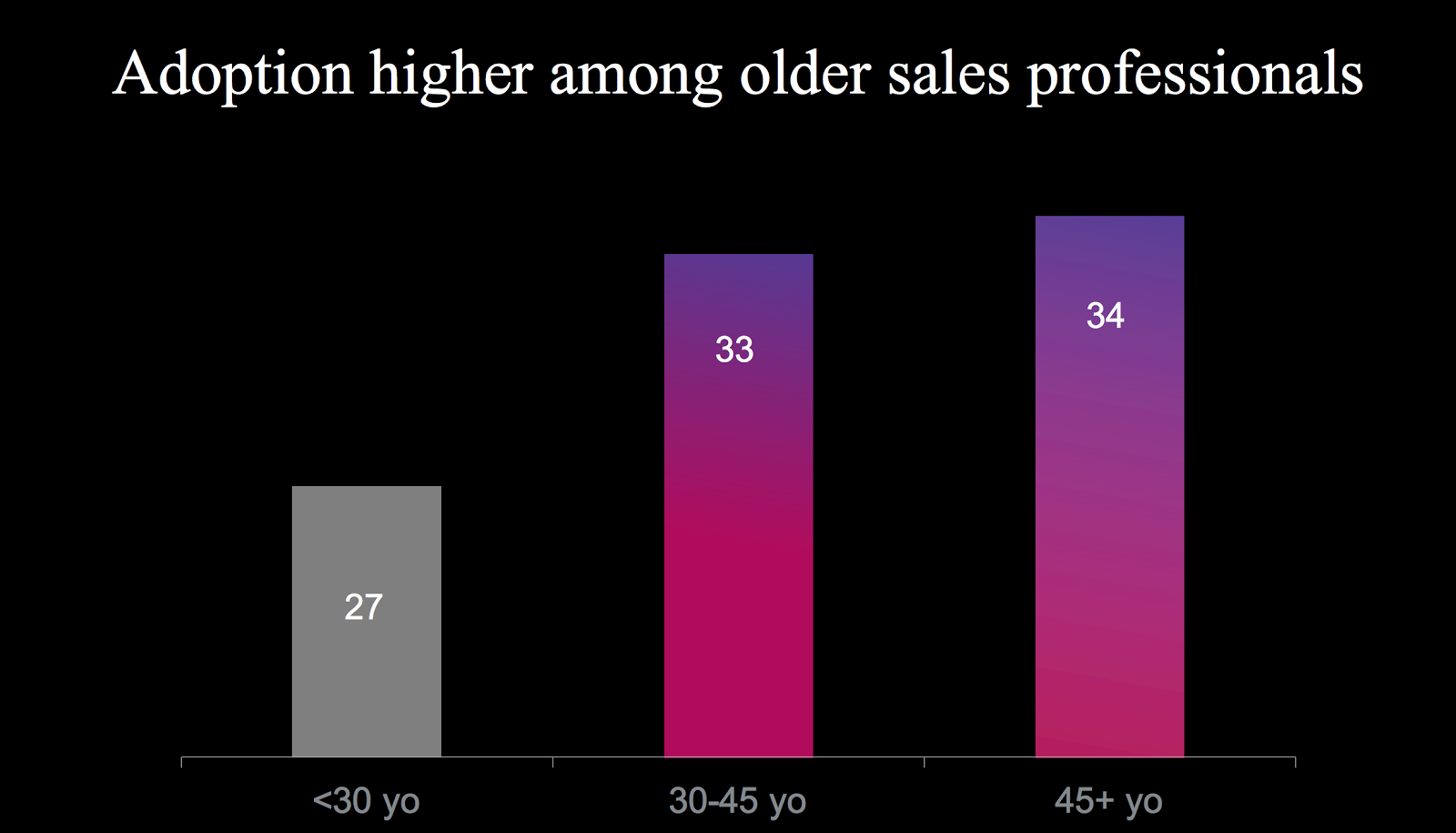 One possibility is that millennials excel at using tools for research and prospecting, but they just don't have as many connections at the level of decision makers. This will probably change over time as they gain experience.
When it comes to relationship-building and personal branding, Gen X professionals tend to have a distinct advantage. In working with over 60,000 sales professionals on social selling techniques, the trainers at Sales for Life have seen how experienced Gen X sales leaders are at establishing and mapping relationships using tools such as LinkedIn. In fact, maybe it's precisely because Gen Xers had to learn social networking that these professionals tend to be more deliberate and successful when building a personal brand from scratch and plotting out the development of a social media presence.
The Remembered
Gen X has often been referred to as "The Forgotten Generation" — media hype tends to focus on the rise of millennials and retiring baby boomers. When it comes to social selling, though, Gen X has some memorable skills for increasing SSI scores. Everyone has something to teach to those who are willing to learn.
To learn more about social selling, preorder a copy of Jamie's new book Social Selling Mastery.
Jamie Shanks is speaking at Inbound Sales Day, a virtual event for 10,000+ salespeople and INBOUND, an in-person event in Boston for sales and marketing professionals.