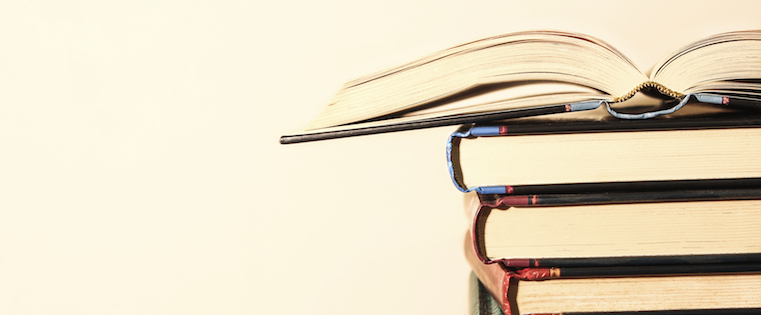 Warmer weather is finally here, which means it's time for leisurely strolls, patio dining, and kicking back under a tree with a good book.
Reading is a key component of becoming more efficient and effective at your job, no matter what you do. Sales professionals in particular can benefit from soaking in the knowledge of a well-researched and insightful book. Besides picking up valuable tips and tricks, motivational sales books can also provide a morale boost for reps who feel quota breathing down their neck.
However, there are quite a few texts to choose from. Which should you read? To help answer this question, I turned to Amazon. Below are the top 20 most highly-rated sales books of all time according to the ecommerce giant.
If your reading list isn't quite as lengthy as mine (it's very possible I might never reach the end), consider cracking open a few of these titles this summer. 
It's a classic for a reason. If your spirits could use some lifting, look no further.
Review excerpt: "This is a classic book on fundamental sales techniques that remains sound after 60 years and dozens of printings. If you learn to act with energy and enthusiasm, it will become the fuel of your success."
Want a step-by-step explanation of how to build a successful sales organization from the ground up? Roberge has the formula.
Review excerpt: "Mark comes at the business of sales from a completely different perspective, which means he isn't contaminated by old or new ideas; instead, he has used data analysis to create an incredibly effective methodology. This is REAL, useable, and measurable training based on real world experience."
If you struggle to build relationships with your clients and prospects, this book is just what the doctor ordered.
Review excerpt: "I don't think of myself as a natural connector. All of the things you are supposed to do seem like way too much annoyance with too little payoff. For me, this book was a breakthrough in changing my thinking about meeting the people I need to meet. I haven't seen anything like this before."
Discover the secrets that made Maher America's "Most Referred Real Estate Professional."
Review excerpt: "Facing death allowed Michael J. Maher to come back and share valuable messages on developing relationships. If you read only one book this year, this should be it."
For sales leaders who are thinking about changing up their business or selling model. 
Review excerpt: "Ever wonder why there are multitudes of Silicon Valley startups that are using membership and community in their core business models? This book not only explains why — it shows you how. For those of us in the membership economy this book is a milestone, codifying the framework and designating the era in business terms that are easy to understand, grasp, and implement."
What can salespeople learn from Ho Chi Minh? Find out. 
Review excerpt: "This is the first book on negotiation strategies I have ever found that really addresses negotiation from the sales side. There is a full section in the book that completely defines and analyzes every possible buyer negotiation tactic, and then lays out the best counter tactic to deal with it. Brilliant!"
7) Go For No! by Richard Fenton
A quick read that might just change how you look at failure and rejection.
Review excerpt: "By page 29, I learned that I'd been thinking about the relationship between success and failure all wrong. I also learned about the different levels of failure and what it takes to progress through them. These lessons empower not only me but my entire organization."
No, not V-8. In this book, solution selling and cartoons collide. The result is quite entertaining.
Review excerpt: "When I would sit down to read, there was no question as to whether Growth Juice would hold my attention. I really enjoyed how the end of the book took us through a sales scenario with developed characters who I became familiar with."
"Big Al" explains why "salespeople can't sell, and prospects won't listen."
Review excerpt: "Big Al is always right on target. You don't capture people's attention with facts and presentations. You get their attention when you truly and sincerely care about them, without any hidden agenda."
Readers get no fewer than 100 suggested closes. Never scramble for a closing line again.
Review excerpt: "I owe Zig Ziglar. Big time. This book increased my ability to demonstrate and sell our service dramatically after one read. Ziglar teaches you that there's no room for success in a salesman's career if he's taking the fast route, making the quick sale, and then locking the door behind him. If you want to make a living in the profession of selling you have to truly believe in your product."
Learning ends when college does, right? Wrong. Konrath argues that how fast you learn is the only competitive advantage in sales today. Stop learning at your own risk.
Review excerpt: "Over the past five years, mounting research about learning agility and change mindset has made a compelling case in leadership development circles. Jill has brilliantly outlined how and why this matters for sales professionals, too."
Raise your hand if you like to cold call! … Anyone? No? Then you probably need to get this book.
Review excerpt: "Gone are the days when I'd do any task other than making a cold call, even though I knew it was the one thing I needed to be doing most. Outbound calling was almost a phobia for me, but now it definitely isn't. For my business it is the best $10 I'll ever spend."
If you've ever watched one of Grant Cardone's videos, you'll know he believes in doing everything to the max. Shift your sales process into overdrive.
Review excerpt: "Cardone maintains that your first concern is obscurity — if no one knows you, no one will do business with you. In a funny way he argues that if you're not gaining haters you're probably not working hard enough to get out of obscurity."
Learn how to craft and deliver a winning sales pitch using the STRONG method.
Review excerpt: "It's not about deception, embellishment, lies, being something you're not, or badgering your target. If you want that, go somewhere else. This is about how real people relate to real ideas, and how you can teach them to understand why your work is special and exactly for them."
If you need to ramp your business fast, pick up a copy. 
Review excerpt: "It turns out to be a top salesperson, you don't have to be a pushy egomaniac with a power handshake and a PhD in PowerPoint. (Thank God! Some of us actually have a chance.) Weinberg's template for developing a no-miss sales story is worth your time and money all by itself."
Readers were blown away by the tips in this book. See below.
Review excerpt: "Part of me wants to keep this stuff a secret — it's that good."
An oldie, but a goodie. Some strategies just never go out of style.
Review excerpt: "For the neophyte just starting to the grizzled veteran (and I read this book at both junctures of my career), this book is as good as any."
Quota attainment lies on the other side of your comfort zone. Discover how to be confident and self-assured throughout the sales process.
Review excerpt: "Many sales books focus on the processes of sales and do very little to address the behavioral components that inhibit our successes. Be Bold focuses on the most critical behavioral issue that stops selling professionals: discomfort."

Get practical tactics to boost your sales each and every day.
Review excerpt: "Andy Paul is a very insightful guy for today's markets. He hits it out of the park with content that is Monday morning ready."
Who doesn't love a good email lesson?
Review excerpt: "What David offers here — COMPLETE WITH TEMPLATES — is how to bring old-fashioned selling, effective selling, pay-the-bills selling, into the one social network we're all on: that email system. The price is right, the content solid, the templates worth stealing (with his permission of course). What more can I say?"
Editor's note: Some results that did not relate specifically to sales were omitted from this list.