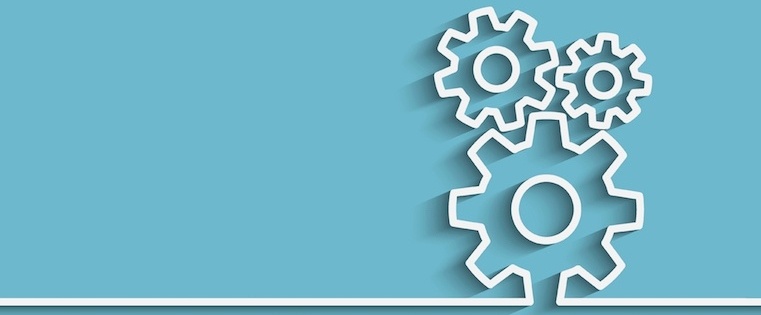 Google Chrome Extensions aren't just the greatest thing since sliced bread — they are better and more useful than sliced bread has ever been. If you're not on the extension bandwagon yet, you will be once you start using some (or all) of these tools to launch your productivity and overall happiness at work into hyperdrive. Believe me, when you start using extensions, you will feel like you have a secret team of background helpers making your life easier.  
The Chrome Web Store is a veritable treasure trove for people who love new tools, toys, and cool stuff because there is always something interesting that you've never seen and may or may not need.
Please note: All of these are free tools but some of the services that they work with have paid features or subscriptions and those prices are included below.  
Task Management
This extension allows you to easily save anything from the web as a to-do on your Wunderlist (you can even save relevant text), and syncs new items across your devices. This is especially helpful if you are sparked to follow up on something or look into something later while browsing. Instead of following up in the moment, add it to your Wunderlist to save time and reduce distractions. 
Price: Free with Wunderlist (Wunderlist: Free for Basic, $4.99/mo. or $49/yr. for Pro/Business)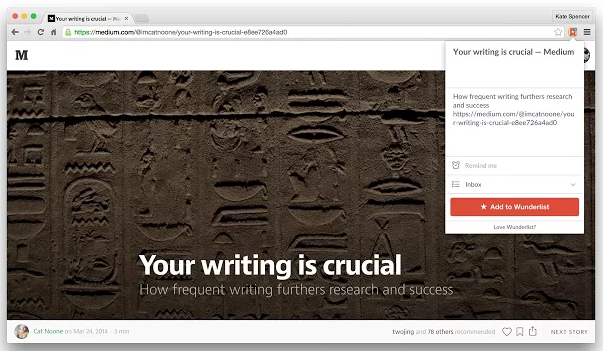 Another beautiful tool for the Wunderlist enthusiast, Wunderlist New Tab displays all of your current to-dos every time you open a new tab. You can also quickly and easily add new to-dos or mark off items you've completed.
Price: Free with Wunderlist (Wunderlist: Free for Basic, $4.99/mo. or $49/yr. for Pro/Business)
If you are a Todoist user, this extension allows you to see your list and add to-dos quickly from your toolbar. The extension has the full capabilities of the desktop app, so you can assign tasks to a project, add links, and so on.
Price: Free with Todoist (Todoist: Free for Basic, $29/yr. for Premium)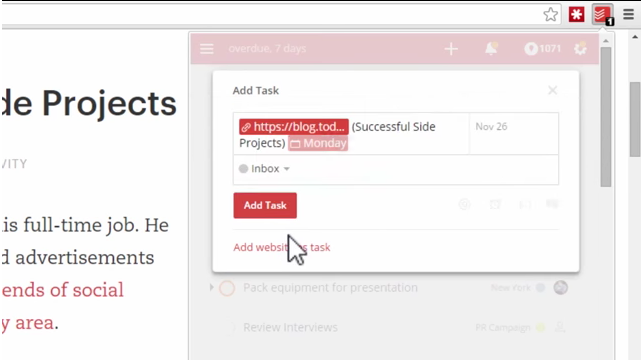 For people who don't want to use a more involved to-do list but still want to stay on top of their priorities, Prioritab may be perfect. This simple interface opens with each new tab and gives you a breakdown of your priorities for the day, week, and month, as well as how far into each of those time periods you are. 
Price: Free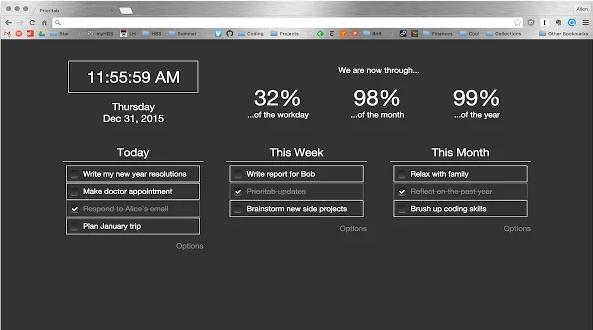 Taco displays your to-dos from over 40 services all in one place, and this extension makes them easily accessible every time you open a new tab. Some popular supported services include Asana, Evernote, Trello, Basecamp, Google Tasks, Todoist, Salesforce.com, and more.
Price: Free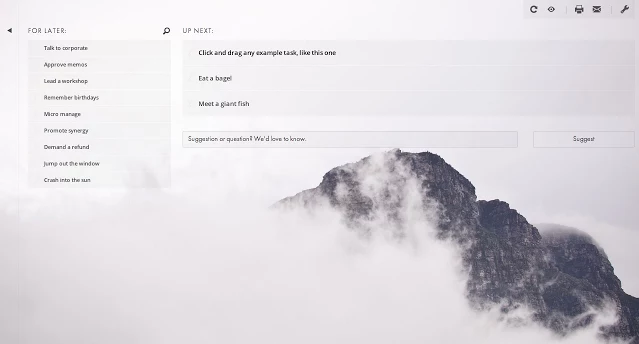 Collaboration
Point allows you to quickly and easily share websites or articles with co-workers, friends, or prospects, then discuss that content in a chat format while you both view the article in real time. Point is also helpful when sharing content via email. 
Price: Free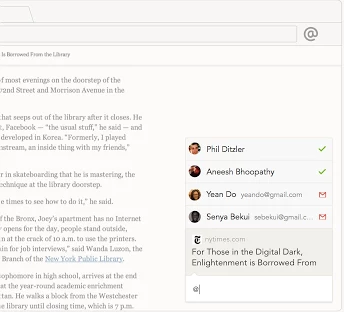 Stay up-to-date with activity from Basecamp projects with the Basecamp Notifier, which alerts you of activity on projects or tasks that you are following. If your team uses Basecamp this extension is a must, and is the easiest way to avoid missing important notifications. (This extension does not yet support Basecamp 3)
Price: Free with Basecamp (Basecamp: Free for one Basecamp, $29/mo. for internal teams, $79/mo. for Basecamp with clients)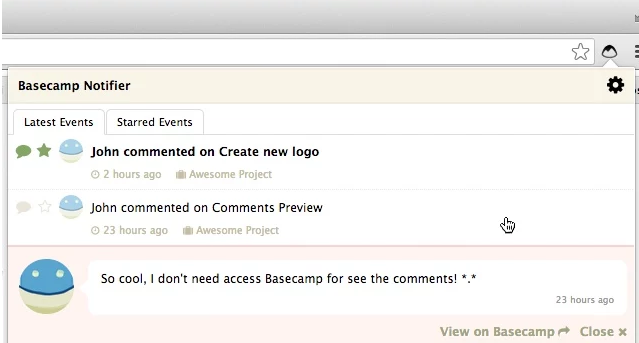 This extension provides one-click access to all of your Trello Boards, and allows you to create new cards on Trello while you're browsing. 
Price: Free with Trello (Trello: Free for Basic, $5/mo. for Gold, $8.33 per user/mo. for Business, $20 per user/mo. for Enterprise)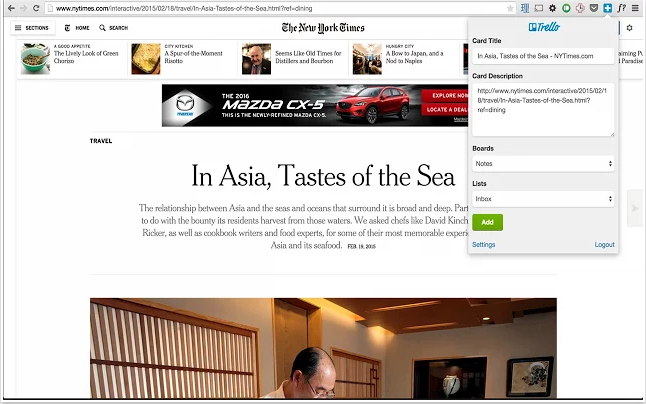 This extension is great for sales reps with files and folders scattered all across the cloud. Sync allows you to pull all your cloud-based files into one place on Google Drive, search and access all of your files in one place. cloudHQ syncs with Evernote, OneNote, Box, OneDrive, Gmail, SharePoint, Basecamp, Dropbox and more.
Price: Free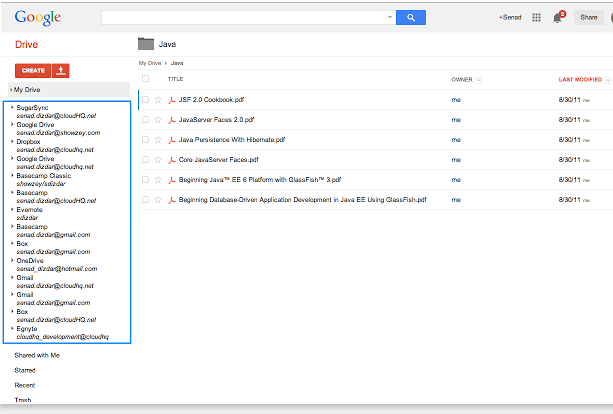 Productivity Hacks
If your organization runs on Google Apps, this extension is a must-have. Black Menu allows you to access any Google App from an easy-to-use dropdown menu with one click from your toolbar. You can customize which ones you see and even access little-known Google tools and shortcuts. 
Price: Free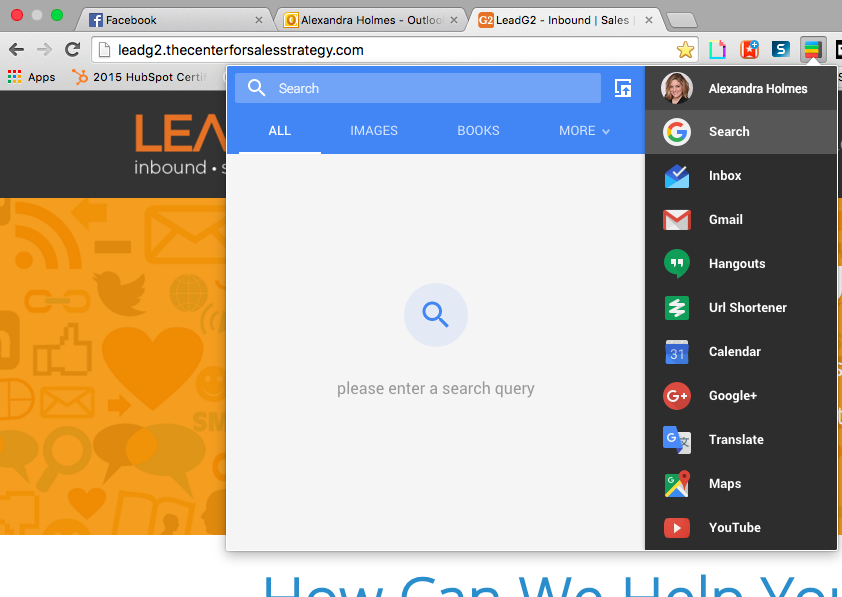 Bring together all of your devices and spend less time looking back and forth between your computer and cell phone with this extension. The most helpful feature is the SMS sync, which allows you to send, receive, and respond to text messages on your desktop. You can also easily send files and links between devices and see alerts from all your devices in one place. I love this extension because it allows me to work with headphones on and not check my phone constantly. I can respond to calls and messages without grabbing my phone or getting off task. 
Price: Free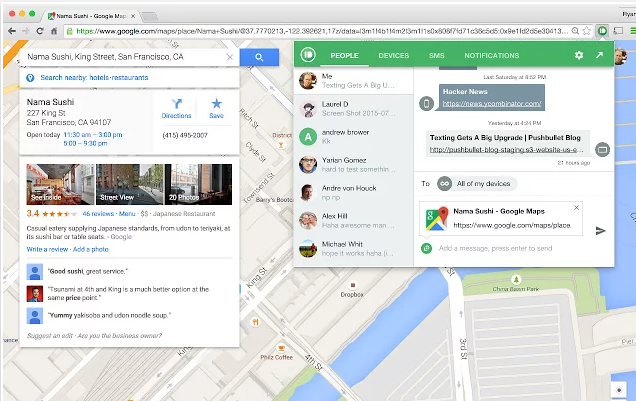 The Pomodoro productivity technique calls on you to work in 25-minute blocks — known as "Pomodoros" — with five-minute breaks, and Strict Workflow is an extension that makes doing so simple. You can time Pomodoros while blocking websites like Facebook, Twitter, or Youtube during your "focus" time.
Price: Free
Improve your focus and block out distractions by putting on a pair of headphones and allowing Noisli to create a relaxed environment for increased productivity. You can customize a mix of different sounds or use a premade formula to drown out even the most persistent loud talker in the next cubicle or an entire coffee shop buzzing around you. Noisli works beyond the office as well — use its premade "Relax" mix to get a better night's sleep.
Price: Free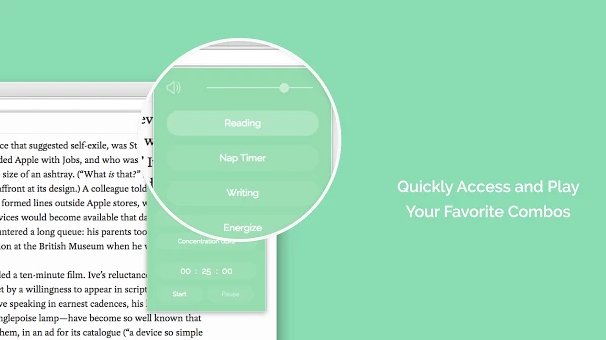 Cool Tools
Say goodbye to a cluttered bookmarks bar and hello to organized and easily searchable notes for all your saved websites, articles, and quotes. Evernote Web Clipper allows you to clip and save articles straight to your Evernote, clip specific sections of webpages, add annotations, and control which notebook clippings are saved to.
Price: Free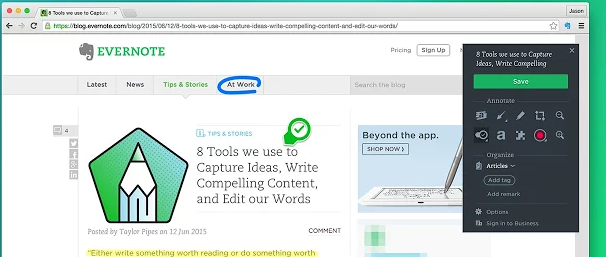 A handy and powerful screenshot tool for Google Chrome that not only allows you to screenshot websites but also screenshot your full screen, whole webpages with scrolling, and any open apps as well as record your screen and capture videos online.
Price: Free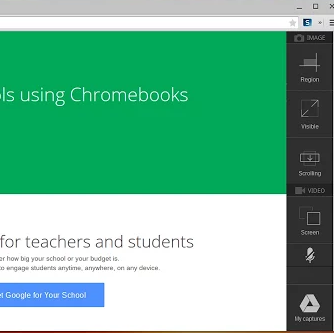 Everyone you ever send an email to will assume you have perfect grammar if you use the Grammarly extension. The tool spell- and grammar-checks your writing, and offers suggestions or improvements.
Price: Free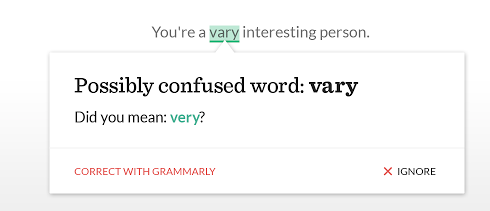 This is a really cool tool for those of us who use research and info from many sources regularly. Instead of the normal list of links on a note somewhere, Candy allows you to select specific quotes or videos and organize and rearrange them as cards that automatically save all the source information. Salespeople can use Candy to aggregate third-party reviews, case studies, and related information to send to prospects.
Price: Free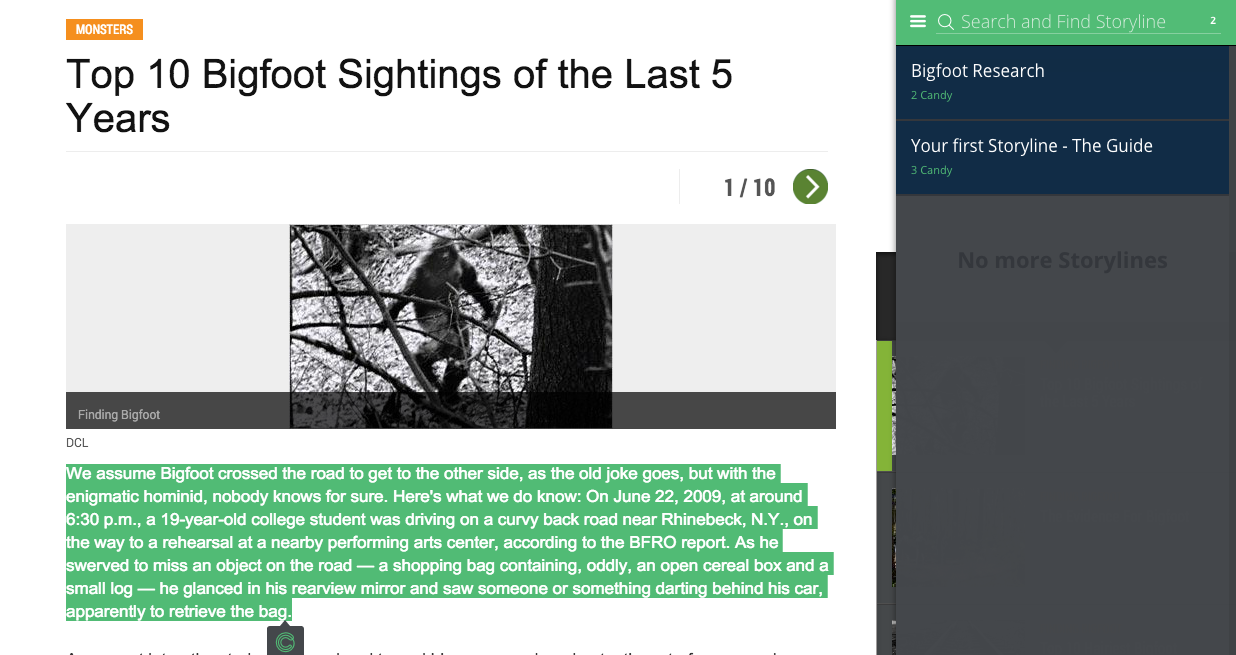 Social Media
Create beautiful images with text overlays for social posts quickly and easily with Pablo. Simply highlight the text you wish to share and click the Pablo extension. In just a few clicks you will have a beautiful graphic optimized for the channel of your choice. 
Price: Free
Twitter fans rejoice! This extension makes monitoring and engaging with individual Twitter accounts easy. Create tweets, monitor timelines, and check trending topics all from your Google toolbar. 
Price: Free
The Sales MVP
HubSpot Sales is downright the most useful extension for B2B sales professionals. The platform provides in-depth details about businesses and individuals on the web or who you've exchanged emails with, such as title, company, contact information, social profiles and even recent social posts. Get instant insight into companies while you browse their site with a pop-out sidebar with company history, contact information, annual revenue, leadership, and important contacts including email, phone numbers, and social profiles.
HubSpot Sales also includes email tracking, which tells you which prospects opened your emails, where they were located, and whether or not they clicked on any links in your message. You can also create custom email templates to reduce the time you spend responding to emails, send pre-scheduled prospecting sequences, and track prospect interaction with content.
Price: Free for Basic, $50/mo. per user for HubSpot Sales Professional
Just For Fun
Sometimes the only way to spice up a sales email is to express how you feel with the perfect animated GIF. You can search whatever you need to say in GIF form, then drag and drop into your email compose window.
Price: Free (Value: Priceless!)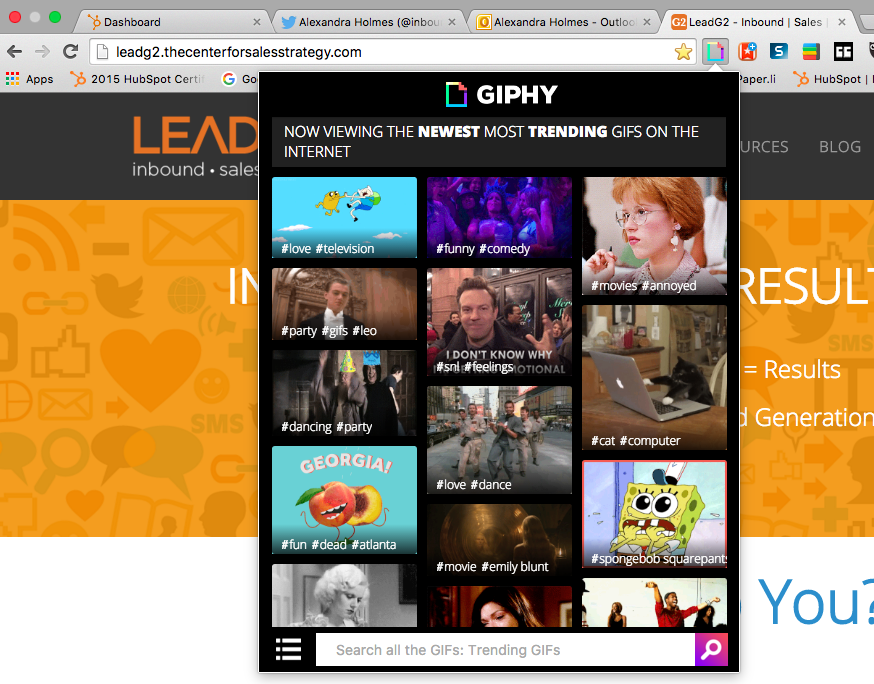 Lumosity subscribers can take productive breaks throughout the day. The extension pulls a new game each time you open a new browser tab, so you can keep yourself sharp throughout the day while doing something that doesn't quite feel like work.
Price: Free with Lumosity (Lumosity: $14.95/mo., $6.95/mo. for a full-year commitment, $4.99/mo. for two years upfront, $299.95/lifetime)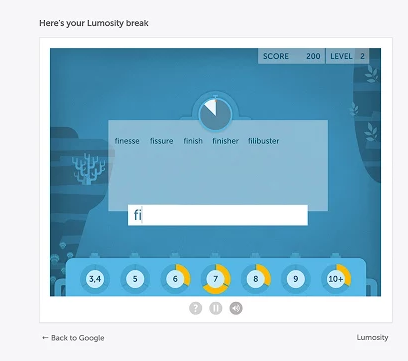 This extension is a simple tool to save articles for reading offline later. I've found it most useful for stockpiling reading material ahead of long flights or travel.
Price: Free