Like most small marketing agencies, we used to get 90% of new clients from referrals.
If we had more time, we'd generate leads through inbound marketing. If we had more money, we'd purchase $30,000+ in advertisements or sponsorships. 
But we had limited time AND money. So we had to come up with a different solution. 
As a result, we built a follow-up email system (using four highly-effective templates) that has generated $100,000 in new business in the past 30 days.
In other words, our revenue has increased by 215% since starting this system.
Crazy, right? 
Our philosophy is similar to inbound marketing, generating leads by providing value, but it's through warm emailing. You see, a lot of cold email involves spamming people, directly asking for something. Instead, we provide value up front, sharing articles or bits of information that might help our prospects. 
And it works. Now we don't have to sit around and wait for referrals to come to us. Instead, we proactively reach out to people, without being scammy or asking for something.
Here's how it all functions, including the four email templates worth $100,000:
Step 1: Find prospects who are mentioned in the news (using Google Alerts and feedly).
We're a branding agency in the healthcare industry, so the majority of our clients are doctors or dentists. 
One of our favorite tricks for finding doctors to contact is finding out when they're mentioned in the news … then reaching out to congratulate them. By saying "congrats" it warms up the initial email.
There are two methods we use for monitoring the news for when doctors are mentioned:
Using Google Alerts
Using feedly
Creating a Google Alert is incredibly simple. Just head over to Google Alerts and type whatever keyword you want to track. Then save an "alert" to send to your email address.
For example, a keyword that we track is "orthopedic surgery." To set this up, I just type in "orthopedic surgery," enter my email address, and click Create Alert: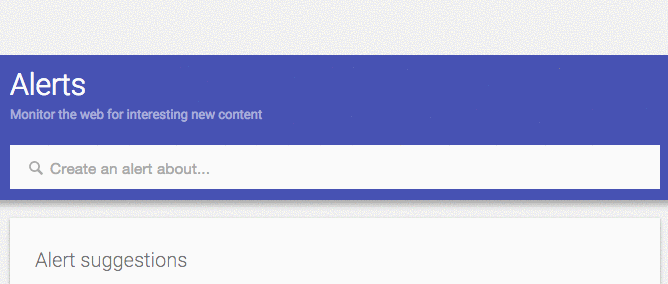 Now I'll get an alert when orthopedic surgey is mentioned in the news, which typically has a doctor tied to it. 
Using feedly is also very simple. After you create a feedly account, you simply add websites into your "feed." Thus, whenever a website publishes a new article, you'll get them all in one place when you go to feedly.com.    
For example, a website we follow in our industry is KevinMD.com. To add it to our feedly account, I click +Add Content, type in "KevinMD.com" and select it, click the green +feedly button, then click Add: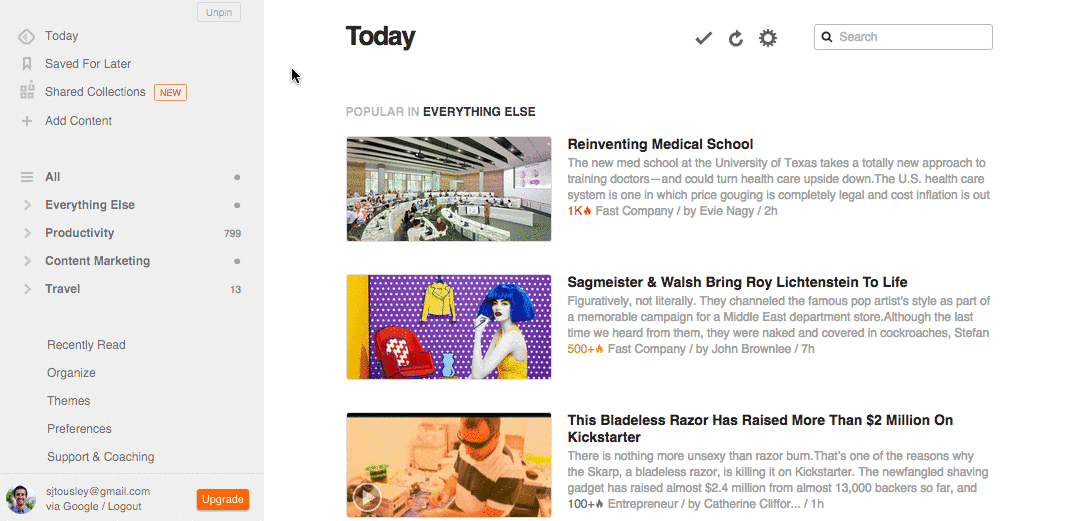 And just like that, KevinMD is added to my account. Other websites we've gotten new customers from are TEDmed.com, Ad Week, and Advertising Age. So I'll add those to my feedly account as well.
To see all of them at once, I click on my Health tab, and all of them pop up as one feed: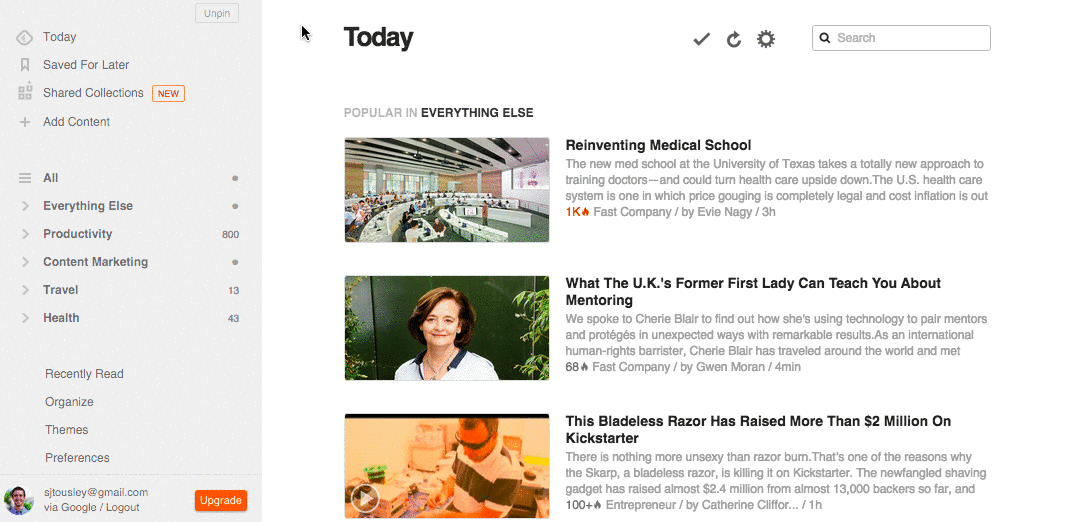 Step 2: Send the first email.
As mentioned in the previous step we warm up the initial email by saying congrats. Here's what that email template looks like: 
Free to chat?
Dr. <>, 
Because I work so much with <>, I constantly follow industry news. Recently I noticed that you've <>
Usually when that happens, <> becomes a priority. That's why I thought you might be interested in finding out how we helped <> get going quickly in their new direction – without any of the typical cookie cutter approaches to marketing. 
Check out our patient advertising and brand campaigns here. 
If you'd like to learn more, let's set up a quick call. Schedule 15 minutes here on my calendar. 
Regards,
Matthew
P.S. If you're not the right person to speak with, who do you recommend I talk to? 
If they say yes, I'll propose time to chat on the phone for 15 minutes using my Calend.ly account. That's where I say "Schedule 15 minutes here on my calendar" in the email. 
Calend.ly automatically syncs to my Google Calendar, which allows people to pick an open time that works for them. This stops the annoying back-and-forth of finding the right time that works for both parties.
If they say no, I'll send the second email 24 hours later.
Step 3: Send a second email, adding helpful content, personalized to their industry.
If we hit 24 hours of silence, we'll send a second email that offers personalized content.
Except we use a feature called Sequences in Sidekick for Business that automatically sends a series of follow-up emails. That means we set this up once … and that's it. Everything is completely automated. This feature alone has saved us HOURS of manually sending follow-up emails.
For example, if our current prospect is a physician, I'll send him a valuable branding survey tool we use to help clients differentiate themselves.
Here's what that might look like: 
Free Physician Branding Tool
Hello Dr. <>,
I'm following-up my previous email with free tool I think you'll love.
It's an brand analysis survey I created just for you (literally, your name is on it), that will help you understand how your practice is different from other doctors in <>.
Click here to begin the brand differentiation analysis survey. When we speak, I'll benchmark your responses against the top physician brands around the country.
I'm sharing my calendar (click here) so we can schedule a convenient time to discuss.
Enjoy your weekend,
Matthew
Since we started sending these brand analysis surveys with doctor's names on them, our response rates have skyrocketed. It's such a simple tweak, but it makes a powerful difference.
Again, if they say yes, let them schedule a time to talk using my Calend.ly account.
If they say no, I'll send a third email 24 hours later.
Step 4: Send a third email of "Re: trying to connect."
Next, I'll send this as my third follow-up email if I don't hear anything:
Re: trying to connect
Hi Dr. <>,
I'm sorry we haven't been able to connect. Again, I know how hectic things can get at work and with family.
I would be available for a call during weekends or before or after work hours if that's easier for you. I don't mean to bug you, but I do want to help you manage your team so you can exceed your goals of <>. 
To schedule a time on my calendar, just click here.  
Best,
Matthew
Again, if they say yes, I send them to Calend.ly.  
If no, I'll send one final follow-up email, 24 hours later.
Step 5: Send the fourth email template of "permission to close your file?"
If I don't hear anything after the first three responses, I send this final email asking for "permission to close their file:"
Permission to close your file?
Hi Dr. <>,
I'm writing to follow up. We are in the process of closing files this month. Typically when I haven't heard back from someone it means they are either really busy or aren't interested. If you aren't interested do I have permission to close your file?
If you are still interested, what do you recommend as a next step?
Thanks for your help.
Regards,
Matthew
Ironically enough, I actually got this template from HubSpot's massive list of follow-up sales email templates … so I can't take all the credit here.   🙂
We've seen a pretty big spike in responses by using this template. Perhaps because people start to realize, "Oh, I'm never going to hear from this guy again. Maybe I should look into their business …"
Step 6: Continuously optimize our follow-up email templates.
We just started using this email system and follow-up email templates, so we've just scratched the surface. I can't even imagine what will happen when we start analyzing our follow-up emails using the templates performance tool available in Sidekick for Business. 
The templates performance tool tracks the open rate and click rate of every template we send, which helps us understand what templates are performing the best.   
However, if you're not using Sidekick for Business yet, try using the Gmail canned responses feature (it's free!). The only downside is you cannot see the best-performing template or automatically insert personalization tokens.
These templates have worked tremendously well for us so far, but we're still early in the process. We'll be continually testing.
But since it's helped us close $100,000 in new business in just 30 days so far, you might as try these templates yourself.