If you're using LinkedIn for sales correctly, you won't insert an ask into your initial invitation to connect. It's only after the prospect accepts your personalized connection request and you've diligently observed their behavior on the network that you can follow up with a meeting proposal.
But just like cold sales emails, there's a right way and a wrong way to write a LinkedIn message. Whether you're sending an InMail or a good old-fashioned message, look to the following template as a guide.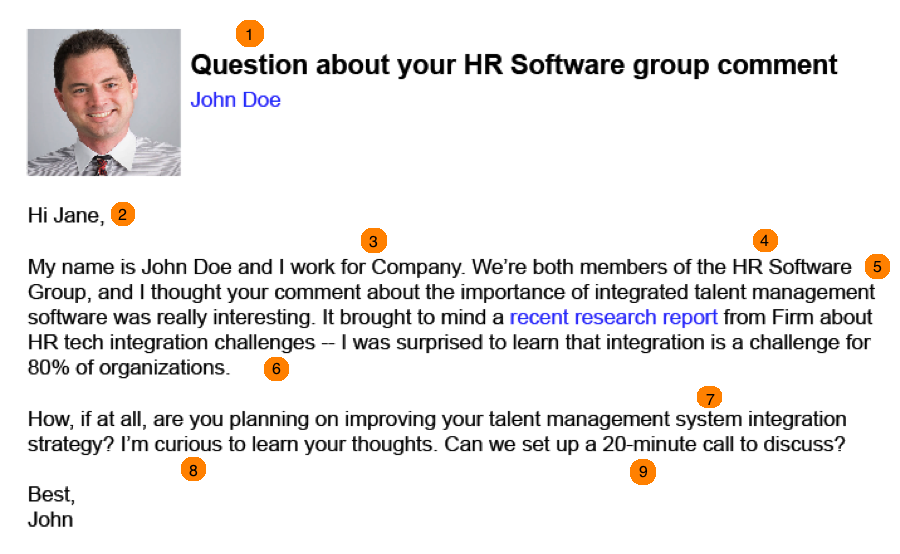 Let's dig into the components:
1) Subject line
"Hey" might've worked as a subject line for Barack Obama, but it won't prompt prospects to open your LinkedIn message. Strive to make your subject line as specific and buyer-centric possible. A question about the recipient's social activity, be it a blog post, update, or comment, generally makes for a click-worthy title.
2) Their first name
Greet your prospect by their first name so they know this message is intended specifically for them. 
3) Your name and company
Don't make the reader click on your profile to figure out who's messaging them. Introduce yourself right up front, so they can concentrate on what you've written instead of thinking "who the heck is this, anyway?"
4) Commonalities
Data has shown that buyers and consumers react much differently to LinkedIn messages from salespeople with whom they share connections than salespeople with whom they don't. With this in mind, if you have something in common with the buyer, such as a group or acquaintance, state this shared connection early on. It'll boost your credibility in their eyes as well as encourage them to drop their guard.
5) Observation
Sales messages, emails, and voicemails should always be about your buyer, not you. Show buyers that you've done your research by mentioning and commenting on their social activity. 
6) Resource offer
Further the conversation that the prospect started on social by providing a resource, such as a content asset, an introduction to an expert, or a recommendation. This demonstrates your ability to help and add value from the get go.
7) Question
Don't underestimate the power of a thoughtful question to get the conversation flowing. Some questions that Michael Pici recommends include:
Is [topic] a priority for you right now?
Do you have any unanswered questions about [topic]?
How, if at all, would you like to improve your strategy?
Check out sales trainer Rick Roberge's list of 100 sales questions for more ideas.
8) Interest
Again, make it about them by demonstrating your genuine interest in learning about their situation. Using the word "curious" never hurts.
9) Request
Every sales interaction should have a clear next step. What do you hope to get out of this message? A call? An email exchange? A referral? Whatever it is, make sure to ask for it in no uncertain terms. If you've piqued the prospect's interest effectively, you won't have any trouble getting them to follow through. 
What shouldn't you include in your message? A product or service pitch. As LinkedIn's Koka Sexton points out, the goal of a message is to strike up a conversation — not close a deal.
"'Salesy' InMails get lower response rates," he writes in a blog post. "Instead, think about how you can engage your prospect in discussion."
How do you write sales LinkedIn messages? Share your thoughts in the comments.
Get The Free 4 Part Video Series That Will Show You How To:
Find, Engage
Differentiate and Stand Out Above Your Competition
Use The Sales Psychology and Find out How Clients Buy
Apply The Formula To Success To Your Business