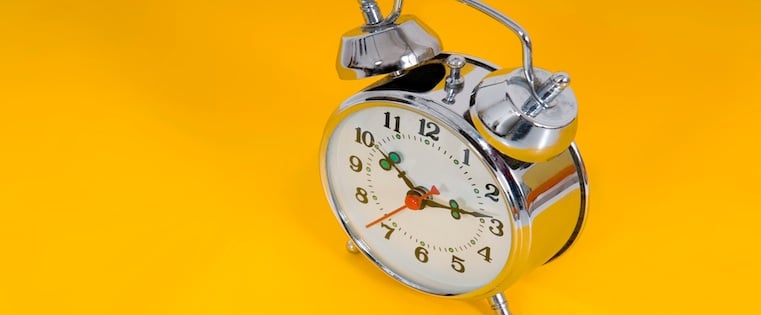 The HubSpot Sales blog needs your feedback! Take our four-question reader's survey here.
A highly successful sales process isn't built in a day. Highly successful reps who crush quota do so because they lay the groundwork weeks or even months ahead of time. By demonstrating discipline and reinforcing good daily habits, they reap the rewards at the end of the month or quarter.
I've managed and carefully observed top sales reps at a number of high-growth companies — not to mention that I was once a not-so-bad sales rep myself. From my perspective, highly successful and quota-crushing salespeople all seem to follow a rigorous daily schedule like the one below. The order of the tasks and the timing will vary, but the discipline and activities tend to stay the same.
5:00 a.m.
Wake up, eat a healthy breakfast, and hit the gym. Mentally prepare for the day ahead. Read national and/or industry news or listen to a podcast while driving to work as a way of constantly learning and remaining on top in your field.
7:00 – 7:30 a.m.
Arrive at the office early, and review your calendar. Create a plan for the day and for each scheduled appointment, and do any necessary pre-call research.
8:00 a.m.
First call of the day — a discovery call. Listen carefully to the prospect's pain during this initial meeting, and ask thoughtful, open-ended questions. Before you get off the phone, define next steps and nail down a follow-up meeting.
9:00 a.m.
Write an email to the prospect you just got off the phone with, summarizing the main points of your conversation, confirming the pain, and stressing the importance of solving it. Log the details of your call in the CRM system, and send a calendar invite for the next meeting.
10:00 a.m.
First demo of the day, with a prospect who already spoke with you during a discovery call last week. Before leaping into your product or deck, start off by reconfirming the person's pain (which you originally learned of last week). Work off these answers, and only demonstrate the features of your product that directly relate to this prospect's problems. Don't overload them with information. End the call by discussing mutually agreed upon next steps and scheduling another meeting.
11:00 a.m.
Write a follow up email for this call and summarize the pain points. Log the relevant information in your CRM system. If exit criteria were met for the prospect to be moved forward in the sales process, advance the account to the next sales stage.
11:30 a.m.
Time to review your pipeline. What does your forecast look like for this month? Adjust the placement of deals that will close sooner, later, or not at all. Notify your manager of these shifts — you don't want them to be surprised at the end of the month.
12:00 p.m.
Don't eat alone — grab lunch with colleagues or mentors. Use lunch as an opportunity to learn or to catch up with people in other departments, like Marketing and Product, and discuss what's happening across the company. Sales is all about connecting, and that goes for internal contacts as well as external.
12:30 p.m.
Take a walk outside. Get some fresh air, and ready yourself for the second half of the day.
1:00 p.m.
Prospect. Call customers to check on them and ask about referrals. Research potential prospects on LinkedIn and other social media sites. Reach out to closed-lost opportunities and try to revive them. Make a few cold calls or send a few cold emails.
2:00 p.m.
Call a prospect who is in the final stages of their buying process, and conduct a negotiation. Cover the terms and conditions of your contract and inquire about who will be signing it. Finish the call with concrete next steps and a time by which you'll have a signed contract in hand.
3:00 p.m.
Meet with your sales manager for one-on-one coaching. Work on the skill that you determined this meeting would focus on through roleplaying, listening back to a call (a "film review"), and talking through strengths and weaknesses. Schedule the coaching session for next week and determine a topic.
4:00 p.m.
Check in with a colleague from Marketing to see if any new collateral has been produced this week. If there's a new ebook or one-pager, read through it and think about which of your prospects or customers would benefit from it. Maintain a closed-loop feedback process with Marketing — Sales and Marketing alignment is critical to the success of the sales team.
4:30 p.m.
Take some time to help out a team member. Swap insights and make a note of any innovative tips or tricks they share with you.
5:00 p.m.
Wrap up the loose ends of the day. Review your sales metrics and analyze what you did well and what you can improve upon for tomorrow. Leave the office.
8:00 p.m.
Pick up a sales book and read a few chapters. Learn. Learn as much as you can, every day, every week. It's key to your success.
Notice any consistent threads running through this daily schedule? Quota-crushing reps continuously plan, analyze, learn, and iterate. Use this schedule as inspiration for your daily routine. You'll see the benefits at the end of the quarter — trust me.