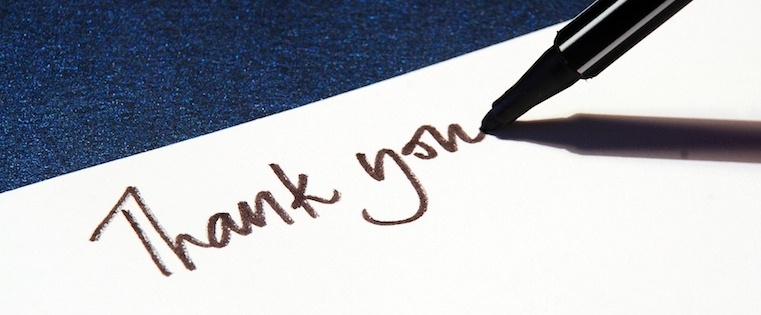 Sales is both a sprint and a marathon: A sprint in the sense that the leaderboard resets every month or quarter, and a marathon in that you've always got to keep moving. Which means that right after you close one deal, you're probably moving onto the next one.
But spending just three extra minutes on a freshly won deal can actually make a huge impact on your sales numbers. How so? Use those three minutes to write a warm, personalized thank-you note, and your customers will repay you in referrals, renewals, and positive reviews.
Read on to discover how you can leverage the enormous power of thank-you notes.
3 Things the Best Post-Sale Thank-You Notes Have in Common
An effective thank-you note accomplishes three things:
1) It lays groundwork for a referral.
Getting a thoughtfully written note tells the prospect you really care about their business — which means referring you to their friend or contact is actually in their best interests. After all, helping a connection discover a great product or service makes them look good.
While asking for a referral in the first thank-you note may come across as a little self-serving, asking for a referral in a separate follow-up is completely kosher. Thanks to the earlier note, you request has a strong chance of being granted (not to mention the likelihood your prospect will voluntarily refer you.
(Not quite sure how to frame your referral request? We've got four email-ready templates.)
2) It reaffirms the relationship.
You've worked hard to create a relationship with your prospect by building rapport, providing value at every touch, and establishing trust. So why throw all that work away now that the contract has been signed?
Adding a personal detail or referencing a previous conversation in your thank-you note will reinforce your relationship. When a customer feels genuinely connected to their seller, they're far more reluctant to leave. Hello, higher retention and upsell rates.
3) It maintains your role as a trusted advisor.
Modern reps succeed by acting as trusted advisors — and just because the ink has dried, doesn't mean you should abandon this role. In your thank-you note, provide the customer with several ways they can get in touch if they need help or guidance. Sure, they could always contact support or their account rep, but your offer will score you some massive goodwill.
To leave no doubt in the buyer's mind that you're truly willing to help, add that you'll check in on a specific date in the future.
Potential Subject Lines
Choose from any of these options:
Wanted to Say Thank-You
Thanks for Choosing Us
Always Here to Help
Thank You Again
Excited to Work Together
4 Post-Sale Thank-You Note Templates to Start Using Today
1) Thanks for choosing us
Hi [Prospect],
Thank you for choosing [our business] to solve [biggest challenge]. I appreciate the time you spent over the last [days, weeks, months] looking into this decision.
Going forward, my goal is to make sure you're as happy as possible with [product]. If you've got a question, an issue, or some feedback, please feel free to reach out. I'm also planning on checking in on [date] to make sure everything's going smoothly and you're 100% satisfied.
Thanks again,
[Signature line]
P.S. [Loved your recent blog post on the tech bubble, That lunch you recommended was spot-on, Saw your area was getting a snow-storm this weekend — stay warm!, etc.]

2) Here at any time
Hi [Prospect],
Thank you for choosing us. I'm excited to see how [product] helps you achieve [high-level objective you discussed].
I also wanted to let you know I'm here at any time — if you've got questions or concerns (or simply want to talk more about [common interest]), just give me a call or send me an email. To make sure you're happy, I'm planning on checking in on [date]. Let me know if that doesn't work for you.
Best,
[Signature line]

3) Always here to help
Hi [Prospect],
It's been a pleasure working with you and learning about [business] (not to mention discovering our mutual passion for [common interest]).
I believe you've already been introduced to your account rep, [Name]. Although [Name] can certainly help with any questions or issues you might have, I'm also more than happy to help — just shoot me an email, give me a call, even text me if that's most convenient! As I've said, I want to do whatever I can to make [Prospect's company] successful in [objective you discussed].
Thank you,
[Signature line]

4) Meeting business challenges
Hi [Prospect],
Thank you for giving us the opportunity to help you with [business challenge]! It's been really rewarding on my end to learn about [Prospect's company's] specific challenges and objectives, and I'm excited we could develop a great solution.
To make sure everything's going smoothly and that your expectations have been met, I plan on checking in on [date]. And in the meantime, if you have anything you'd like to ask me, please reach out. Our support team is also fantastic; they're available at [phone number] or [email address].
By the way, [hope you enjoy your trip to Australia, good luck building that treehouse, thanks again for the restaurant suggestions, etc.]!
Best,
[Signature line]

Even though you might think your job is done as soon as the prospect signs, investing a little time (less than it takes to brew a cup of coffee!) to write a thank-you note will pay fantastic dividends. So before you turn your attention to the next prospect, tell this one you appreciate their business.