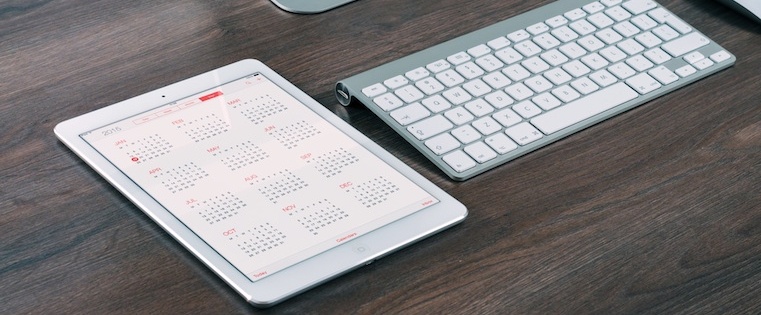 Look at the sales rep sitting to your right. Then look at the sales rep sitting to your left. Want to be three times more likely to crush your yearly sales quota than those reps?
… Is that a real question?
Here's what you need to know: Sales professionals who use LinkedIn for social selling are 300% more likely to exceed their yearly sales quota than those who don't. 
But social selling can seem overwhelming. What goes into a winning strategy? How much time should you spend on each activity? Where do those activities fit in your schedule?
If concerns like these have stopped you from fully hopping on the social selling train, great news. We've broken down what you should be doing on LinkedIn every day, week, month, and quarter. With the details out of the way, you can focus on connecting and closing.
Once a Day
1) Look at Your Network's Announcements
The sooner you reach out after a trigger event occurs, the better — in fact, 50% of sales go to the first salesperson to contact the prospect.
Enter: LinkedIn's "keep in touch" box.

This tool gives you a quick, easy way to stay up-to-date on everything that happens in your contacts' professional lives. When someone in your network has a work anniversary, gets promoted, or starts a new job, it'll show up here.
This feature is useful even if the person isn't currently a good product fit. Their situation could always change — by keeping the connection alive, you'll have an advantage if and when they do become a qualified lead. Plus, you never know when you'll need an introduction. Buyers are five times more likely to respond if you're reaching out through a mutual connection. 
2) Browse Your News Feed
Spend a couple minutes per day scrolling through your news feed. This section used to include your connections' professional updates (promotions, work anniversaries, etc.), but now it's limited to the posts they've liked, shared, and commented on.
If you see an opportunity to add value, jump in. Adding an insightful comment to another user's discussion or linking to a relevant article increases your credibility. It also helps you gain visibility — not only will the original poster see your reply, but all of their connections will see it too.
3) See Who's Viewed Your Profile
A profile view can be a valuable trigger event — if you leverage it appropriately. Some reps send generic messages like:
Hi [prospect],
I saw you checked out my profile, so just wanted to follow up. Let me know if there's anything I can do to help.
Cheers,
[Your name]
Not only are these types of messages boring and non-personalized, but they don't add any value. You'll see far more success with a message like this one:
Hi [prospect],
Congrats on [recent company announcement]! I thought you might enjoy this article on [topic], since you're in [X industry].
Also happy to set up a call about [topic], if you're interested.
Best,
[Your name]
For more tips, check out our blog post on what to do when someone looks at your LinkedIn profile.  
4) Send Connection Requests
The most successful reps are always expanding their network. Case in point: Salespeople who exceed quota send approximately 150% more connection requests per month.
One connection request per day might sound like a lot, but thanks to LinkedIn's advanced search features, finding qualified prospects is relatively simple.
HubSpot Managing Editor Emma Brudner also recommends requesting anyone with whom you've had a meaningful interaction — either in-person or online.
Nurturing individual high-quality connections is important even if you practice account-based sales. Since an average of 5.4 people are now involved in each B2B purchase, you should connect with as many decision makers as possible. 
(Struggling to find the right words? Use this connection request template.) 
Bonus: View Recommended Leads
If you use LinkedIn Sales Navigator, you'll get suggested leads based on custom criteria like your prospect's job, authority, company size, location, and more. It's a great tool for consistently building out your pipeline.
To set up your future self for success, devote some time each day to browsing your recommended prospects and adding any promising ones to your leads list.
Once a Week
1)
Comment on

 Content

Build your reputation as a thought leader by adding insightful comments to your prospects' content. Not only will you generate conversations, but consistently adding value will enhance your credibility and trustworthiness.

Not sure what to say? Check out these 30 ideas for kickstarting interactions. 
2) Post in a Couple Groups
Users who participate in groups get four times as many profile views. In other words, drawing prospects to your profile can be as straightforward as commenting on a discussion.
It seems logical that leaving more comments would lead to more views. However, only thought-provoking and insightful comments lead to clicks — so it's far better to leave two high-quality observations than 10 throwaway ones.
LinkedIn suggests posting in different groups each week until you've rotated through your entire list. This strategy works well if you belong to 25-plus groups. But if you're in fewer, it's more productive to concentrate on your four or five most active groups.
Once a Month
1)
Audit

 Your Groups

You can join up to 50 LinkedIn groups. Maxing out that limit is highly recommended, since groups are a great way to create common ground with prospects. (Even if you have nothing in common with a person, you can always join the same group and get a look at what they care about!) But of course, not all groups are created equal.

To make sure you're fully leveraging this feature, go through your current groups once a month and unsubscribe from any inactive or unproductive ones.
2) Follow New Influencers
Following the same influencers as your prospects helps you understand what engages and motivates them. Every four weeks or so, go through the profile of your most recent connections and see who's included in the influencer section.
Every time you see an unfamiliar name, click "Follow."
(Referencing an influencer's post is also a good way to personalize your message. For example, you might write, "Loved your comment on Guy Kawasaki's post on the five-hour workday. Here's a resource you might find interesting.")
Once a Quarter
1) Request a Re
commendation
Nothing boosts your credibility like a glowing recommendation — or five. However, it's a mistake to ignore this section and let it get stale. As a rule of thumb, you should request at least one new recommendation per quarter.
Why? It's very possible your goals will have changed from the last time you looked for references. Maybe three months ago you were looking for a job, so you reached out to former managers and coworkers to sing your praises. Now that you're in your new role and hoping to attract prospects, you should source testimonials from happy customers.
Plus, if all of your recommendations are from one year ago, people might wonder if you haven't done anything impressive since then.
If you're not sure how to ask, check out this LinkedIn recommendation request template.
2) Update Your Current Job Description
Most professionals only write the description for their current job once. But you're constantly leveling up in your skills and abilities — so your profile should reflect your latest, most impressive achievements.
Of course, remember who your target audience is. If you want to engage with prospects, don't update your LinkedIn profile when you qualify for President's Club. You should, however, update it when one of your customers lets you know they've decreased internal paperwork by 40% since buying your filesharing software.
3) Check Your Social Selling Score
Social selling may seem like more of an art than a science. However, LinkedIn has found a way to quantify your performance using four main elements: Your professional brand, your prospecting abilities, your engagement, and your connection skills. Each is scored out of 25, giving you a total score out of 100. 
Checking this score lets you gauge your progress. If it continually improves from quarter to quarter, you'll know your efforts are working. But if it flatlines or decreases, adjust your strategy.
Social selling isn't something you can do in five minutes per day. It takes time, energy, and long-term commitment. But hey, if it can make you 300% more likely to exceed quota, it's worth giving a shot.