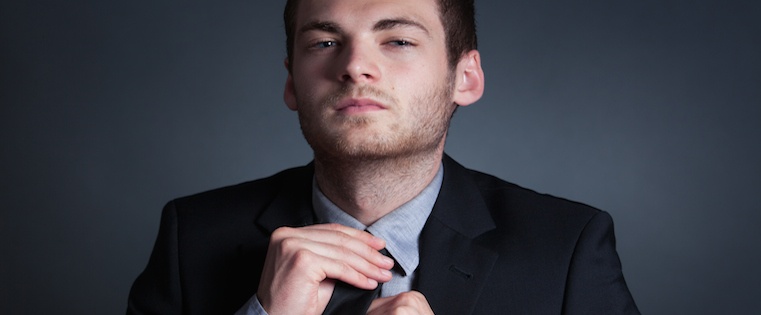 So, I'm a jerk when I interview sales candidates. Why? I'm trying to approximate what a prospect might do, so that I can see how a salesperson would handle the situation. For example, prospects aren't always nice, don't go out of their way to put salespeople at ease, don't purposefully build rapport, and don't always willingly answer tough questions. Therefore, if I want to determine whether a salesperson has the skills and strengths needed to handle prospects in these scenarios, why would I act any differently than a difficult prospect would? Why would I be a nice guy?
While the key selling strengths as identified by the Objective Management Group's sales candidate assessment (desire, commitment, takes responsibility, positive outlook) are required to work at HubSpot, we do hire people who still need to learn critical selling skills, as long as they are coachable. So, most of my sales interview focuses on whether the candidate has weaknesses that will prevent them from picking up the necessary skills. My goal is to determine whether they are aware of their weaknesses, and if they will be willing and able to overcome them.
Over the years, I've used many of the questions shared by sales expert Tony Cole, and you can check them out if you'd like. But in this article, rather than walking you through every question I ask, I'm going to share stories from a few sales interviews I've conducted over the years. All of these people have had successful sales careers since their interview.
Sales Interview #1: Testing Rejection-Proofness and Recovery from Rejection
This salesperson had two years of work experience before joining HubSpot, but no selling experience. Today, they are 15 months into the role and are currently 120% YTD.
The beginning part of this interview wasn't good, but the candidate turned it around at the end. Here's how they remember the end of the interview:
"Overall it went pretty horribly. Earlier in the interviewing process, I learned that I should close on every interview. So 60 minutes in, I asked 'Well Pete, how do you think I did? Are you prepared to move me forward into the position?' You said, and I quote, 'Honestly I can't believe we wasted so much of your time. You're clearly not a fit for the role.' 

I audibly gasped. I took the phone away from my face and stared at it. I was half a second from chucking it straight into the Charles River when I realized that this was just a test. I took a breath, and said, 'Why do you say that?' You quickly responded with a laundry list of critiques: 'You built no rapport. You clearly haven't done any research on my background. Why would you be so unprepared for the conversation with a VP?' Some silence and you resumed, 'But I think you will work hard and you're definitely a smart guy. So I'm on the fence.' 

I knew I had an opening at this point. I asked a few more questions to clarify some of your criticism and then realized it was time for me to close again: 'You may be on the fence, but I'm not. I will work harder than any sales rep on the entire floor. I will take everything you say is a weakness and make it a strength. What would be the next steps from here?' 

At that point, your language switched. You went on to tell me that I'd have a lot to learn and a lot of weaknesses to overcome. The rest is history, of course.
Takeaway: With little previous sales experience and a handful of weaknesses, I would have rejected this person if they didn't show me they were hungry enough and resilient enough to handle rejection, frustration, and setbacks during the interview. Although he wanted to chuck his phone in the river, he handled rejection well by asking me questions. Try giving your sales job candidates a taste of rejection and see how they handle it. After all, you don't want your salespeople losing their cool at prospects.
Sales Interview #2: Testing Ability to Control Emotions
I'm sharing this one because it's a great example of what it looks like when someone doesn't control their emotions. This salesperson over-performed at HubSpot for three years and then left to start their own venture. I did not hire her, but another (much nicer) sales manager did.
When I recently reached out to her for this article, I asked her to describe how she felt at the end of the interview. She said, "I remember being very embittered and sore." I recalled her face getting very red, and receiving a bunch of one word answers. Our head of recruiting even asked me, "What did you do to piss her off so badly?"
Here's a story on how we got to that point, in her words.
I believe I answered several questions in ways that lead you to believe that I was not the right candidate for the job. You asked me to tell you about my previous sales experience. We agreed that it was very transactional, as opposed to the more consultative, complex sale employed at HubSpot. You also asked me a handful of questions about my money motivation, personal goals, how I make buying decisions, and average deal sizes at my previous job. It seems like you were looking for someone with more concrete financial motivation to succeed.

When we came close to time, I started to talk about how I really wanted to work here. Then I asked, 'Do you think I'm a candidate for this position?' You told me you did not think that I was a candidate and I asked, 'Why not?' in a pretty argumentative tone. You mentioned the lack of consultative sales experience. At that point, you told me I looked upset (I'm sure I did). I tried to push back on my ability to learn how to sell consultatively. But, at that point, it felt like I lost the argument.
Takeaway: Controlling emotions is key in selling. When prospects say things that are unexpected, unwelcome, or just plain wrong, it's important to ask questions that get to the heart of the matter, and ultimately, get the prospect to consider an alternative view. However, most salespeople respond with statements that make the prospect feel like they're arguing with them.
By telling a sales interview candidate something they don't want to hear, I'm modeling what a prospect might do. What I'm looking for is someone who remains unemotional and acts curious, and then truly tries to understand things they don't agree with. For example, they could say something like, "That's really interesting. Would you be willing to share with me why you think that?"
By showing emotion, this candidate demonstrated to me that she'd probably struggle with staying cool in tough prospect situations. Worse, I might not be able to help her overcome weaknesses if her knee-jerk reaction was to get emotional and defensive when I brought them up.
Sales Interview #3: Evaluating Rapport Building
It's certainly possible to teach people how to build rapport and set agendas, but for someone with a few years of sales experience, they should have learned these skills already. So, I do test for this. As you'll see from my takeaway below, evaluating a salesperson's rapport-building skills also helps me surface and evaluate some weaknesses.
The transcript from the beginning of our call, written by this salesperson (currently at 132% YTD), perfectly shows how I test for it:
Me: "Hello." 
Candidate: "Hey Pete — it's X!"
Me: "Yeah." 
[pause]
Candidate: "We have a phone interview now … I think?"
Me: "Yeah."
[at least 20-second pause]
Candidate: "Okay, well, let's do this. What would you like to start with?"
Me: "I don't know. You tell me."
I asked this candidate to share with me what they were thinking during that part of the interview:
When you stayed silent for so long, I was caught completely off guard. When I found my footing you asked, 'Why do you think it was awkward at the beginning of the call?' I gave you an honest response and said, 'I wasn't expecting you to be silent and I got worried.' The rest of the interview went swimmingly with you occasionally giving me some feedback. But, I felt I took control and drove the conversation in a way that impressed you enough to hire me. It was the strangest and scariest interview I've ever had. But at the same time I learned the most from it.
Takeaway: As you can see, in addition to testing for rapport building, I'm also testing to see whether the job candidate can control their emotions and recover quickly from rejection. Sometimes, they'll flunk the rapport part in the beginning, but recover as we go. That was the case with this candidate.
Sales Interview #4: Setting the Agenda
This salesperson is only five months in, but is at 100% of YTD quota. She managed business development salespeople at her previous job. Here's her story:
You were, indeed, a bit of a jerk, but I'm glad we had that call. The first five minutes of my interview with you were the most awkward five minutes of my life. And I've given birth to two kids! As a manager, over the last 10 years, I've probably ran over 500 phone interviews and I can confidently say that yours is the one that comes to mind first.

It started with two minutes of awkward silence, and here is how the rest of the conversation went:

Pete: 'So, I guess you're expecting me to break the silence?'

Me: [Awkward laugh] 'Oh, yeah, sorry — this is your interview. I figured you'd tell me where to start.'

Pete: 'Well, what's your agenda for today?'

Me: [I'm thinking 'Agenda? On an interview designed to dissect me, why I would set the agenda?'] 'Um yeah, of course I have an agenda!' [I then followed that up with a rambling, incoherent suggested agenda.] 

Pete: 'Okay, so let me get this straight. You want to talk about yourself. Then, you want to see what my expectations are for the role. And then, if we have time, I can ask you questions. Is that really what you're going with?'

Me: 'No.' [Dying inside.]

Pete: 'Want to try it again?'

Me: '[Attempt #2]'

Pete: 'Isn't that kind of like the first one? Want to try again?'

Me: 'Sure …' [I finally manage to scrape together four logical, much more concise, bullet points on the fly. I also asked you what you wanted to cover and incorporated that.]

Pete: 'Okay that's better … let's get started.'

Me: [Oh. Goodness. This should be fun.]
I thought this candidate handled my test fairly well, given that she wasn't prepared. What I respected is that she didn't give up. She also acknowledged she could do better — right in the moment — and improved with some prodding. In other words, she had the skill and she didn't let any emotion show. During the interview, she also asked great questions that showed me she understood the role very well, demonstrated that she didn't have any other major weaknesses, and closed me correctly.
Takeaway: It's rare that a sales candidate takes control of an interview, builds rapport, and sets an agenda properly. When they do, it's an excellent sign. But, I've learned not to expect it from junior salespeople. However, I do expect them to course correct when I prod them. I also expect them to recover and manage the rest of the call.
Sales Interview #5: Testing for Money Issues
This salesperson joined one of my sales teams three years ago. She was one of my top performers for two years, not to mention a recognized leader and mentor to others. She was promoted to manager 15 months ago and has consistently achieved over 125% while carrying one of the largest team quotas in the company.
Here's her recollection of our interview:
During the interview you asked me about the most expensive thing I had ever purchased. You pressed me on it and asked for details. I said that it was my car. You asked, 'How much?' I said $25,000. You asked me how long it took me to make the decision and I explained that I bought the car the same day that I saw it. I needed a car; therefore I bought a car.

You also asked me about whether or not I had any personal goals. I laid out a few such as buying a condo, traveling, etc. You then asked me how much money I would need to make to do these things, and I said $100,000 per year or more. You responded with, 'And what happens if we don't give you a job and you don't make $100,000?' I replied, 'I'll do whatever it takes; I won't stop until I find a job that pays me at least $100,000 or more no matter what.'

You weren't horrible to deal with by any means, but you weren't all rainbows and puppies either. I saw that you were taking the interview and growth of the business very seriously, and I appreciated that.
Takeaway: With this candidate, I was testing her comfort with talking about money and whether or not she had a supportive buy cycle. Based on how freely she spoke about money, I concluded she didn't have a money issue. Based on how quickly she bought a car, I concluded that she had a supportive buy cycle. I was satisfied with her lack of weaknesses and her strengths.
Sales Interview #6: Evaluating Skeptical Curiosity
This person is one of my favorite hires of all time. She has been a sales manager at HubSpot for a year, after three years of being a top performing sales rep. As a sales rep, she performed 205% in her final year in the funnel. Her sales team has performed over 110% consistently.
Skeptical curiosity is a term I created, I believe. I find that someone who is curious and skeptical is usually a great consultative salesperson.
In her interview, she asked so many good questions that I truly believed she was gathering competitive intelligence, and told her so:
You accused me of trying to get competitive intelligence in my interview! I remember thinking, 'I'm considering moving my life several hundred miles to Boston and this guy thinks I'm trying to get competitive information. What a jerk!' It was that week that I asked for an offer before I flew out to Boston for my on-site visit. And you gave it to me!

Later, I remember being on the phone with you and a prospective partner and things really clicked for me. We were on the call, and I was listening to you challenge her over and over on time commitment, financial investment, etc. — very similar to how you conducted my interview. It was a light bulb moment for me and a great lesson in how to add value and get buy-in by challenging a prospect vs. pitching them.
Takeaway: When I approach each sales interview, I skeptically evaluate the candidate's abilities, but with a genuine curiosity to figure out whether they can be coached to greatness or not. Some people call it it "Interviewing like a jerk," but I'm quite confident that it helps candidates more than it comes off as jerky. Plus, I'm demonstrating precisely the characteristic I would like my salespeople to possess when they sell: skeptical curiosity.
Sales Interview #7: Testing for Excuse Making
This salesperson joined one of my sales teams three years ago. She is currently at 162% of YTD quota. She was also moving across the country to take the job, and didn't have a lot of relevant sales experience. So, I tested her on everything. 
One of the more memorable pieces of the interview for her was when I was trying to find out whether she "makes excuses" for failure or if she accepts responsibility and learns from it. Here's her recap:
You asked a string of questions that forced me to speak about negative experiences, which I believe most people try to avoid in an interview. I wasn't prepared for many of them and honestly wasn't sure if I was losing my chance at an offer.

One question was, 'What was the worst year you had in sales and why?' I talked about how I had taken a role at a startup agency when I didn't know much about sales. I had since learned that sales requires a lot more prospecting than I did at the time.

Another question you asked was 'Can you tell me about something you committed to do, but failed?' I shared how I had failed during the first six months of my current job. The VP Sales had left right when I joined and I reported directly to the president, who didn't have a lot of time to help me. My six month review didn't go well. In fact, he asked me to clean out my desk. I had achieved the revenue target, but I did not bring in net-new accounts. He told me that he didn't think I was cut out for the business. I asked him for 30 more days to prove I could bring in new business. I had spent a lot of time developing relationships and planting seeds, and knew that I'd be able to close new accounts. He agreed, and in that 30-day time frame, I was able to bring in a handful of new accounts. Then, I asked for 60 days, then 90 days. I eventually stayed there for a total of two years.
Takeaway: As you can see from her answers, this candidate was willing to acknowledge her failures, and most importantly, she learned from them. For example, she learned that prospecting was key after her first job. I also loved the commitment she showed by not giving up when her boss told her she couldn't succeed.
I'm Not Always a Jerk
For those of you who conduct sales interviews, I'll leave you with a caveat. I don't always act like a jerk. I'm usually the last person to do an interview and if I'm talking to the candidate, there is at least one manager who wants to hire them. And if I don't think we're going to hire someone, I don't act like a jerk. 
The other time when I'm not a jerk is when I know we're definitely going to hire someone. If they aced the assessment, every part of the interview process, and my managers unanimously want to hire them, I don't press as hard.
As you can tell from these stories, the hour these people spent with me helped them see some of the things holding them back from being great salespeople. I'm astounded by how often candidates thank me after they realize what I was up to in that initial interview. Sometimes, that's right away. Sometimes, it's years later. Either way, I don't think I'll stop being a jerk in my interviews any time soon.
If nothing else, this article should prepare you for a jerk like me. You might be tempted to take a sales job that doesn't interview like this. But if a company interviews you and doesn't test you in this way, I'd be worried they're not going to know how to train and coach you effectively either. They won't recognize the weaknesses that hold you back from being better — and they won't know how to help you overcome them.
So, be prepared for your next interview. Bring your skills. Stay calm and ask questions when you're tested or confused. And most importantly, don't get emotional. Good luck, from this (well-meaning) jerk.